Do you have processes for recurring activities? If not, we highly recommend to start with project templates in Freelo. Process can be just a checklist of steps. It helps you keep the same procedure and not to forget anything.
Project templates help you to create typified projects quickly. There can be also pre-set due dates or sub/task solvers.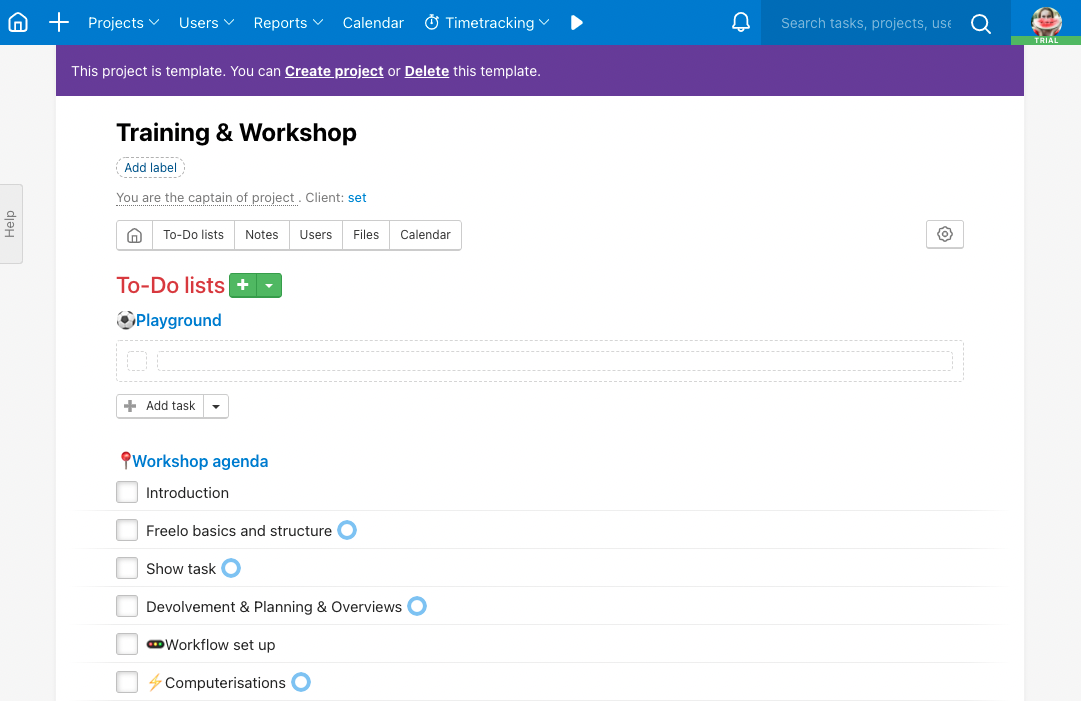 How to create a template
You can create a new project template and define To-Do lists with tasks and subtasks gradually. There are few ways to do so.
Create a new template
Go the section Projects > All projects > click Create template.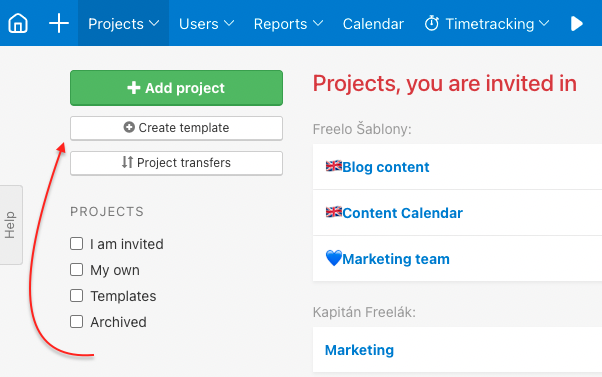 Then, there appears a form where you enter template name and its Captain. In case you are part of a team using a paid plan you should set the person who pays for the plan as the Captain.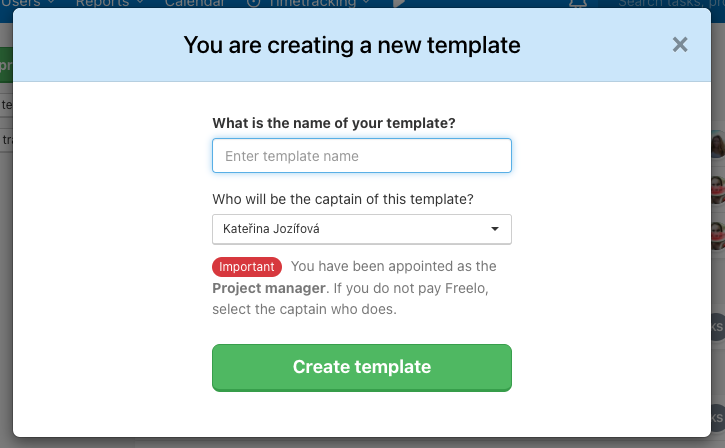 Then you have a clear project template where you define particular To-Do lists, tasks, subtasks. You can also invite other users, assign them as solvers or preset due dates.
Template from existing project
In case you have a well structured project and you know the tasks are recurring, you can create a template from the existing projects.
Go to All projects and via three dot menu on the right click Create template.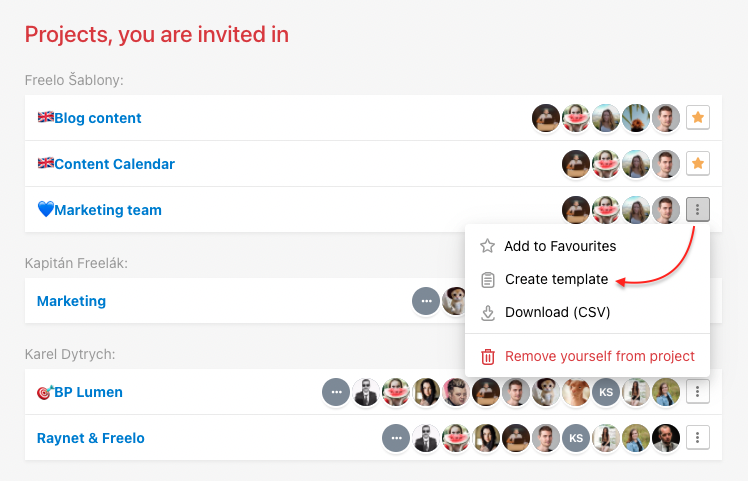 When it is your own project you can create a template in the project detail. Click the setting icon and Create template.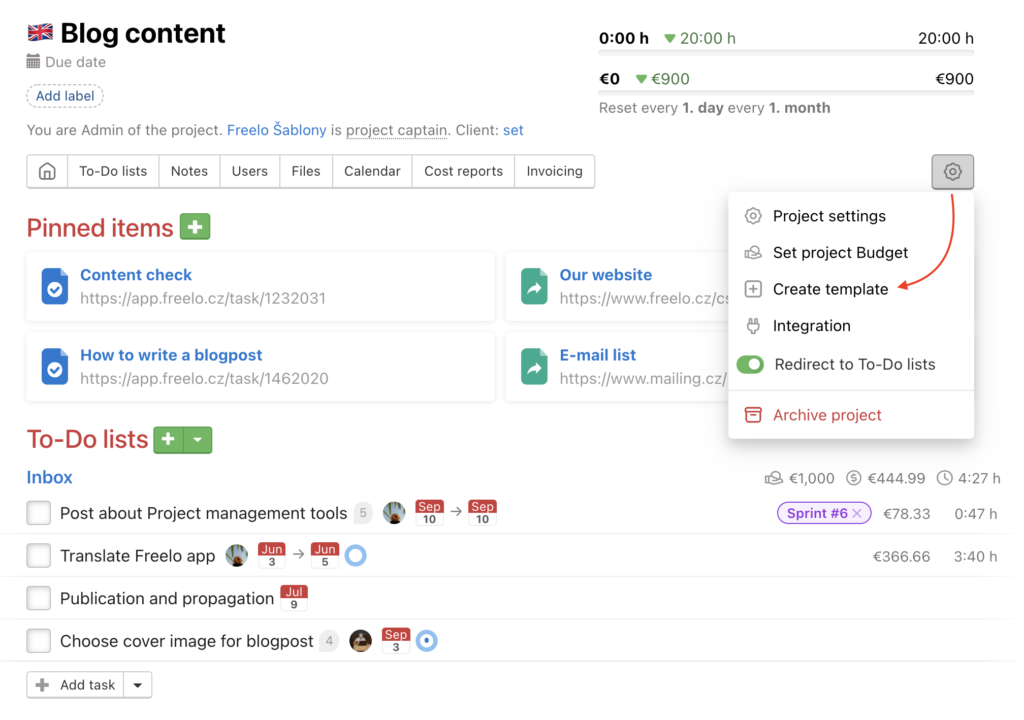 New project from template
Go to project template detail. In the upper purple bar click Create project.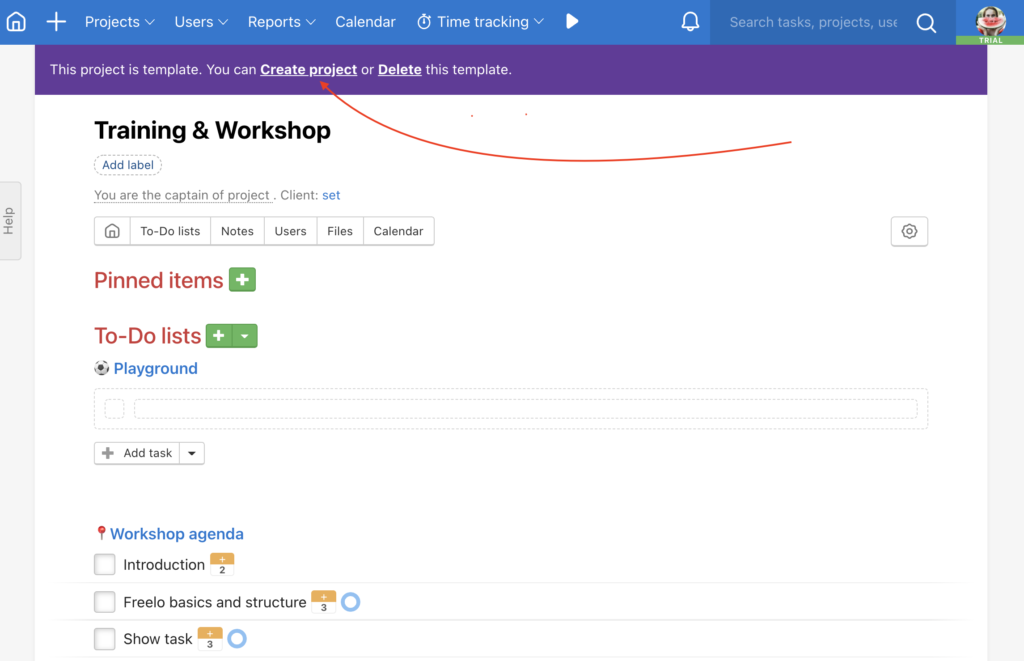 In the form, enter the project name and select the date from which the deadlines will be set according to the template. Then choose row or column view, currency (cannot be edited later) and project's captain.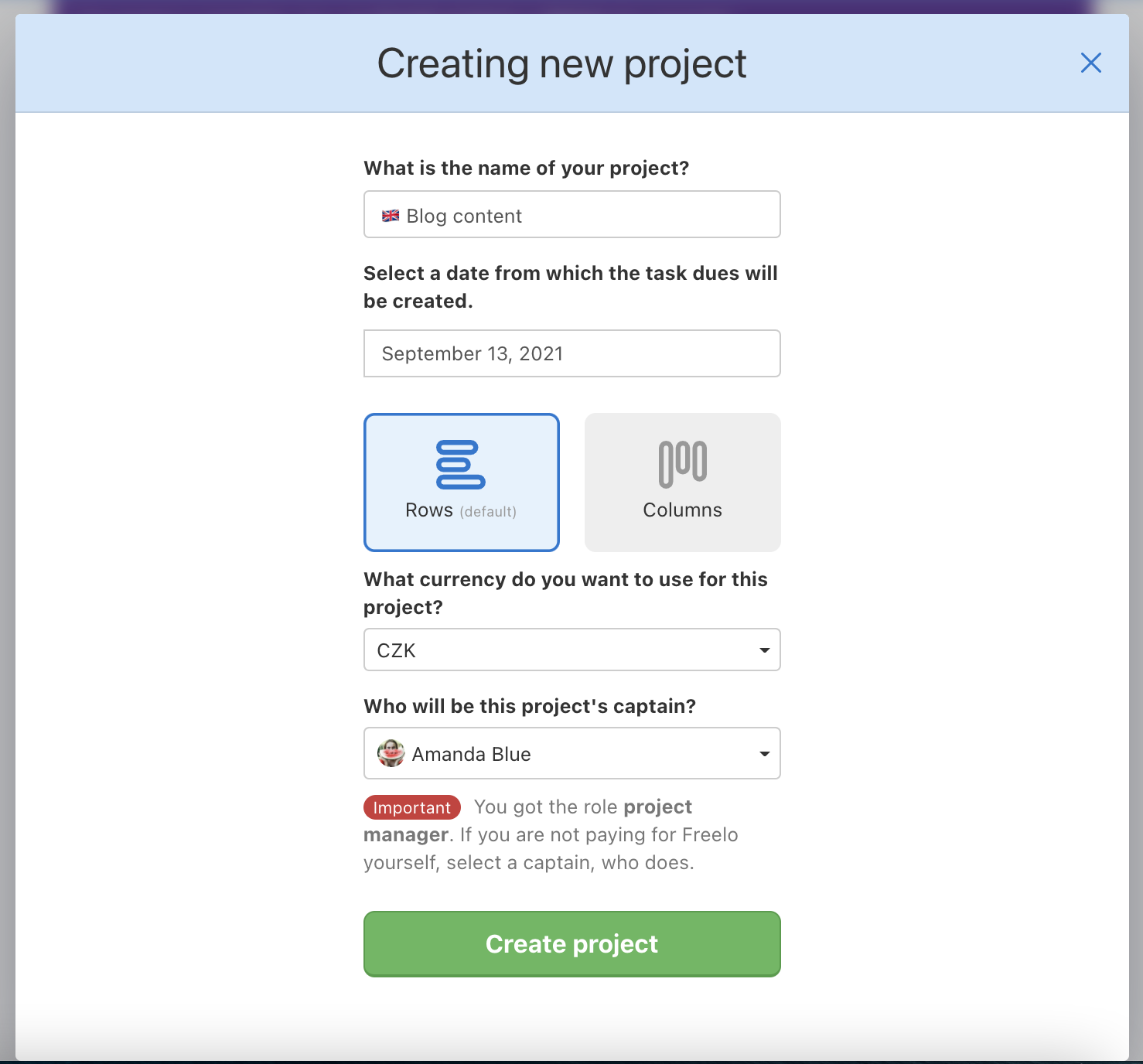 Date for creating task deadlines
In the form there is a part Select a date from which the task dues will be created. That means you should select a date when the task's and subtask's deadlines start to create.
For example: Today is the 5th. I set date from which the task dues are created on 15th. In some tasks I have preset due date +1, +5, +10 days. Real due dates of these tasks will be on 16th, 20th and 25th.
How to use templates
As soon as you have some project templates, you can find them in the section All projects > Project templates.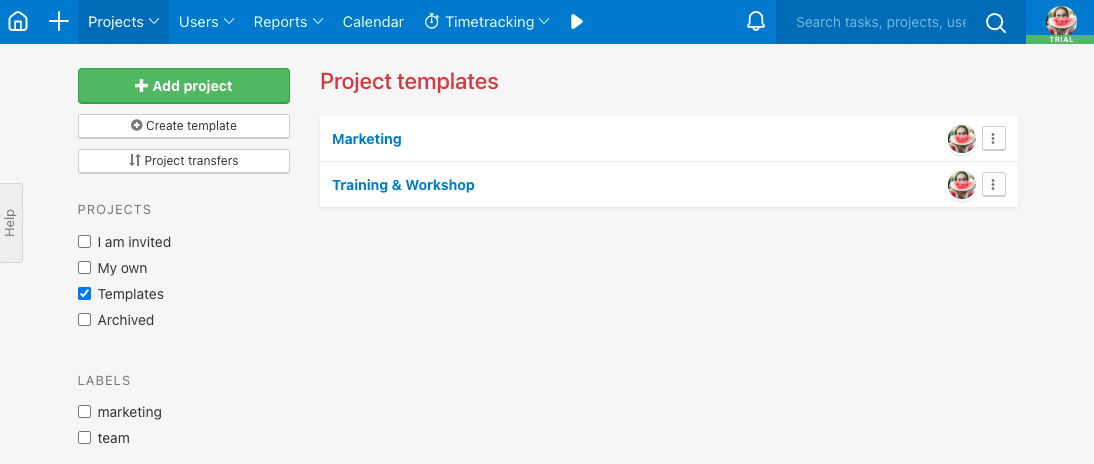 Then you can add particular To-Do lists or tasks with defined process to running project. Also, it helps you create tasks in bulk.
Add task from template
Go to the project detail and click the arrow icon next Add task > Add from template…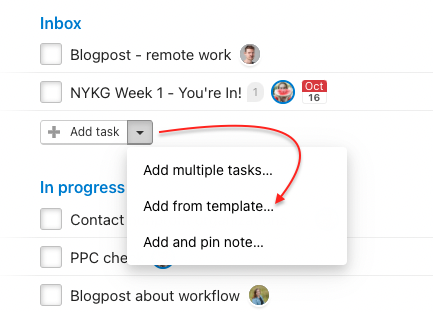 In following window select the task template that you want to add as new task.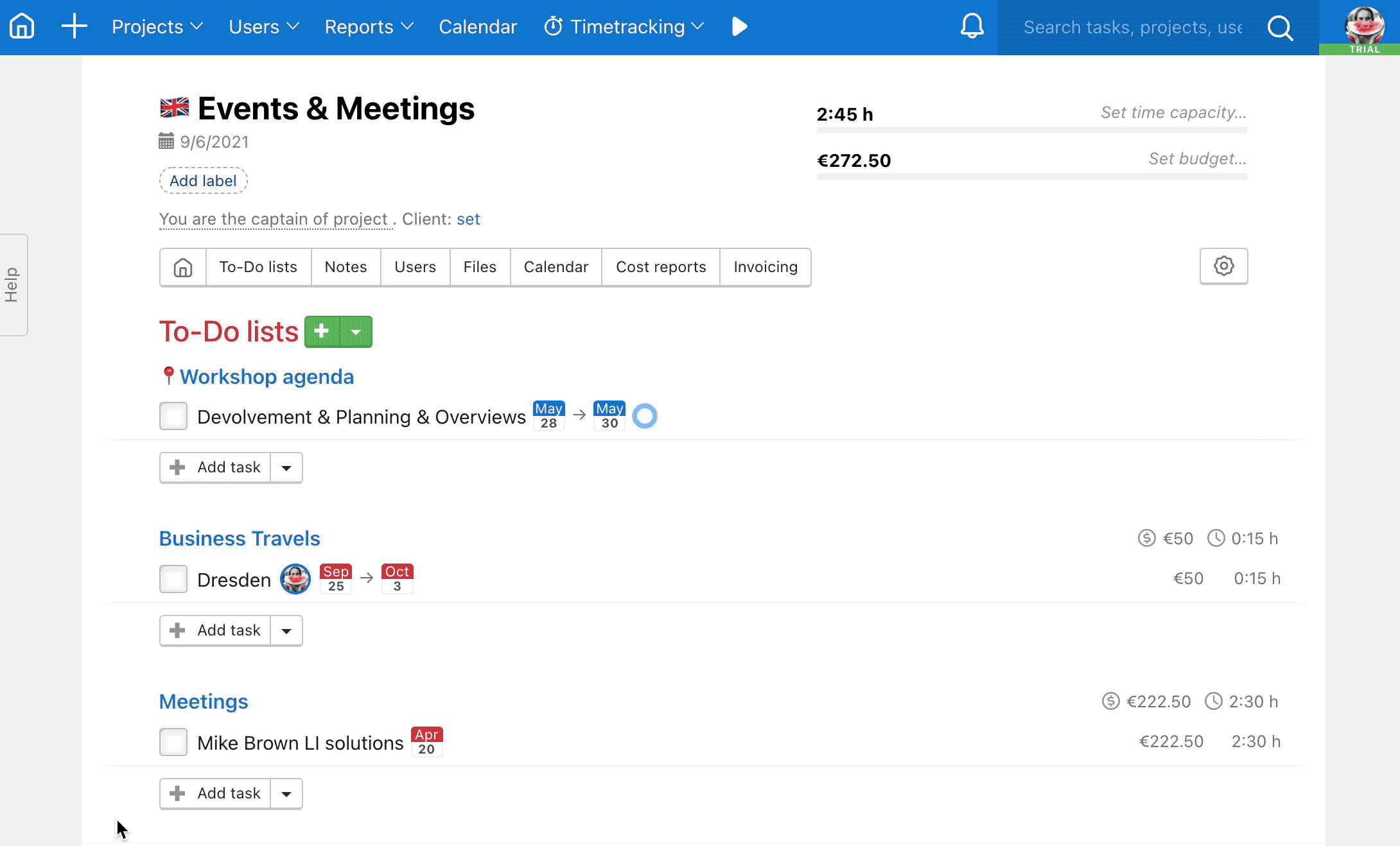 Add To-Do list from template
Below you can see how to add To-Do list from a template. Click Add from template… via the arrow next to red title To-Do lists.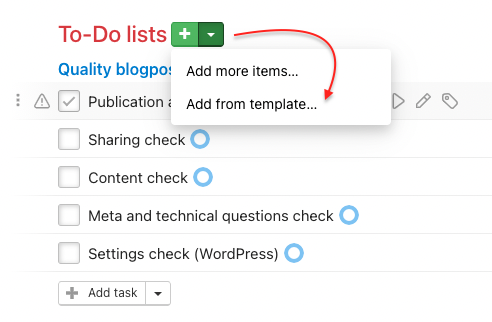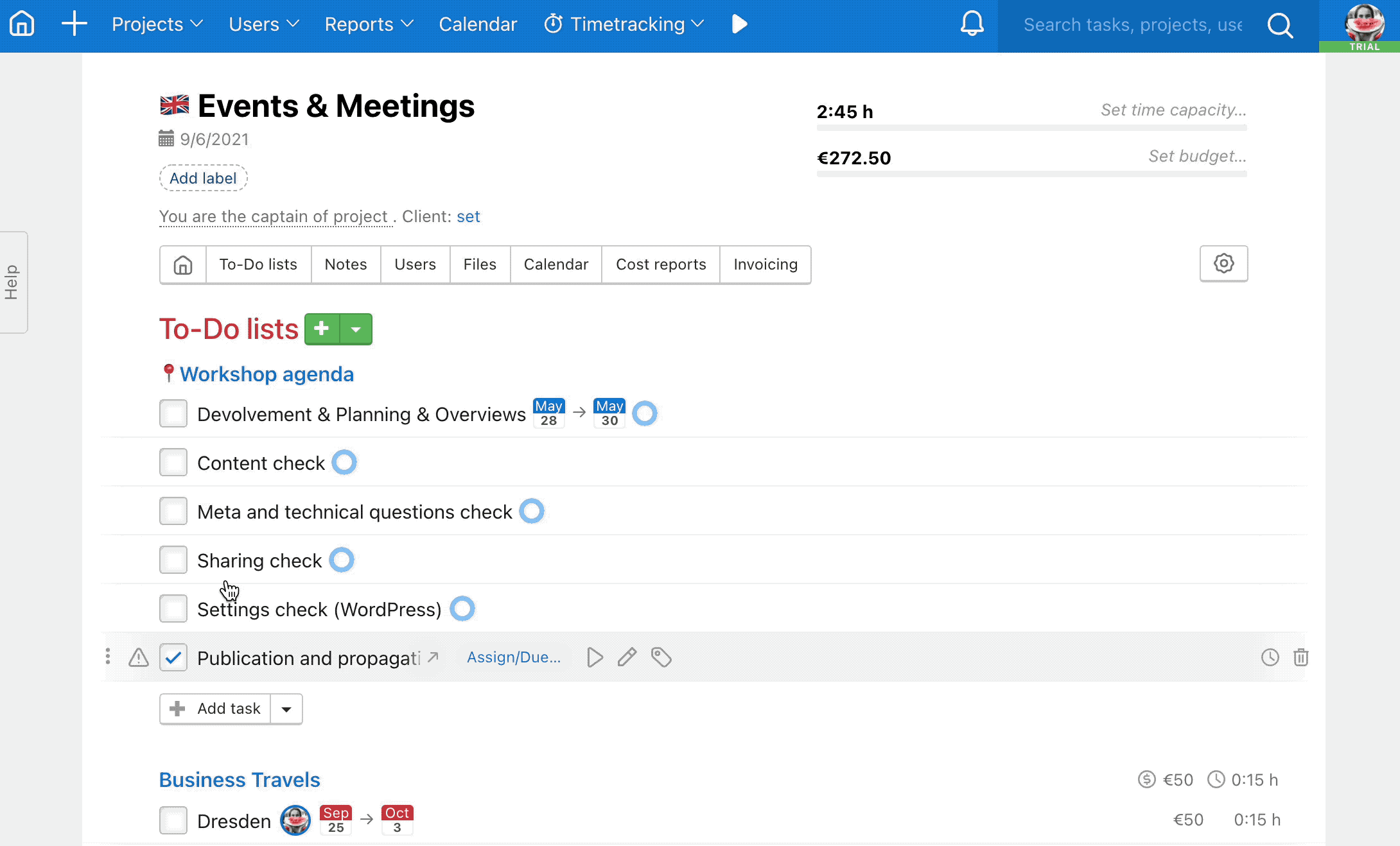 Invite users to template
It is also possible to invite users to the project's template. This allows you to share the template with other users who can use it as well.
Go to the section Users in the template and click green plus icon to invite others.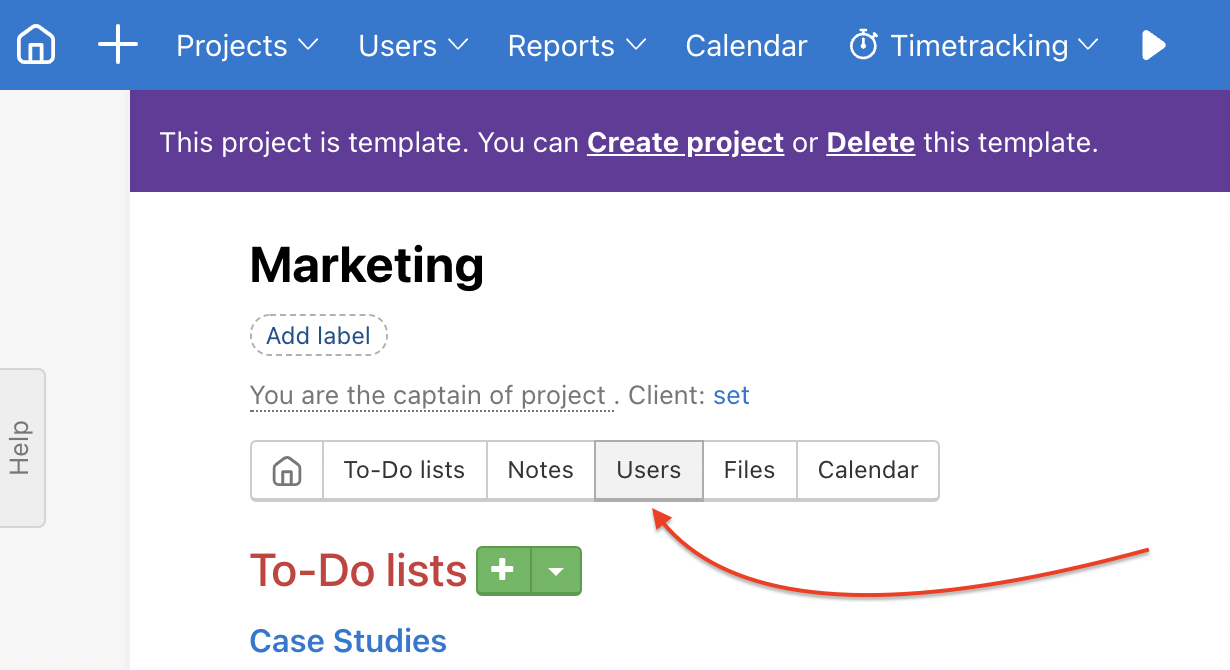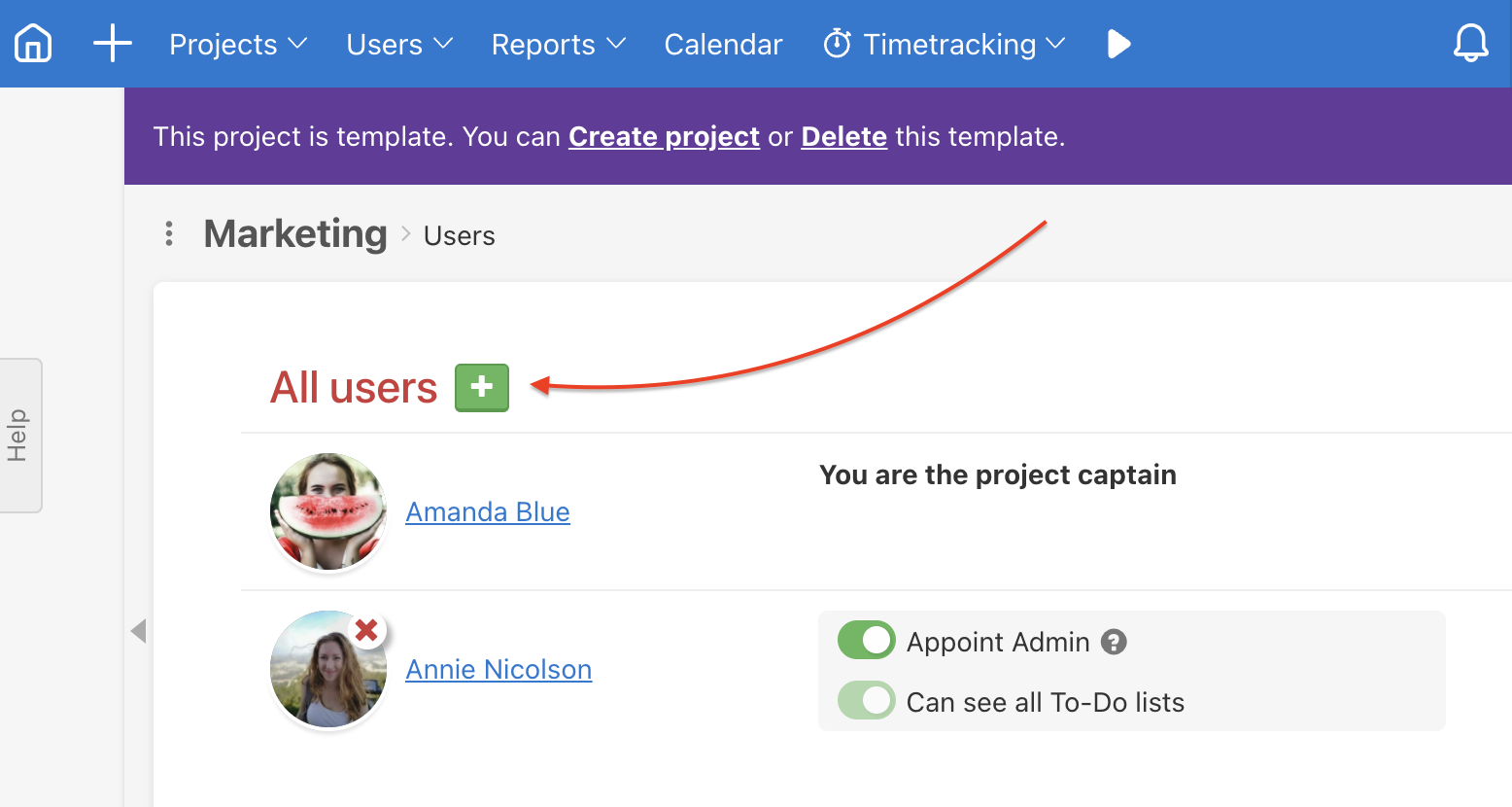 As soon as you invite users to the template you can assign them to tasks and subtasks. Assigned users remain as solvers in created tasks or whole To-Do lists.
Set up due dates
You can set up floating due dates, for example + 7 days since the date you choose when creating a new project from template. In the template you preset the deadline for task or subtask.
Add due date just as in a normal task. Place mouse over a task and click Assign/Due… or go to the task detail. Or use the keyboard shortcut the cursor on the task + T.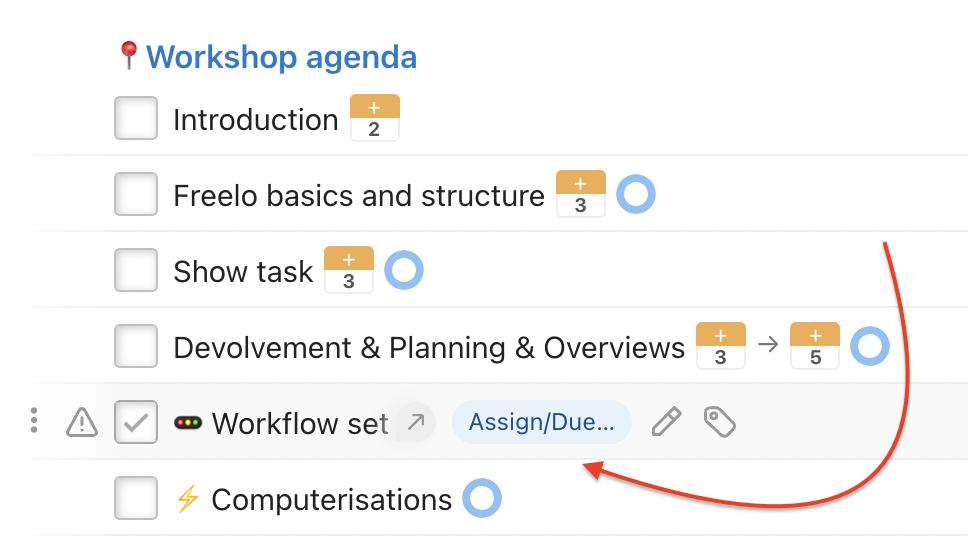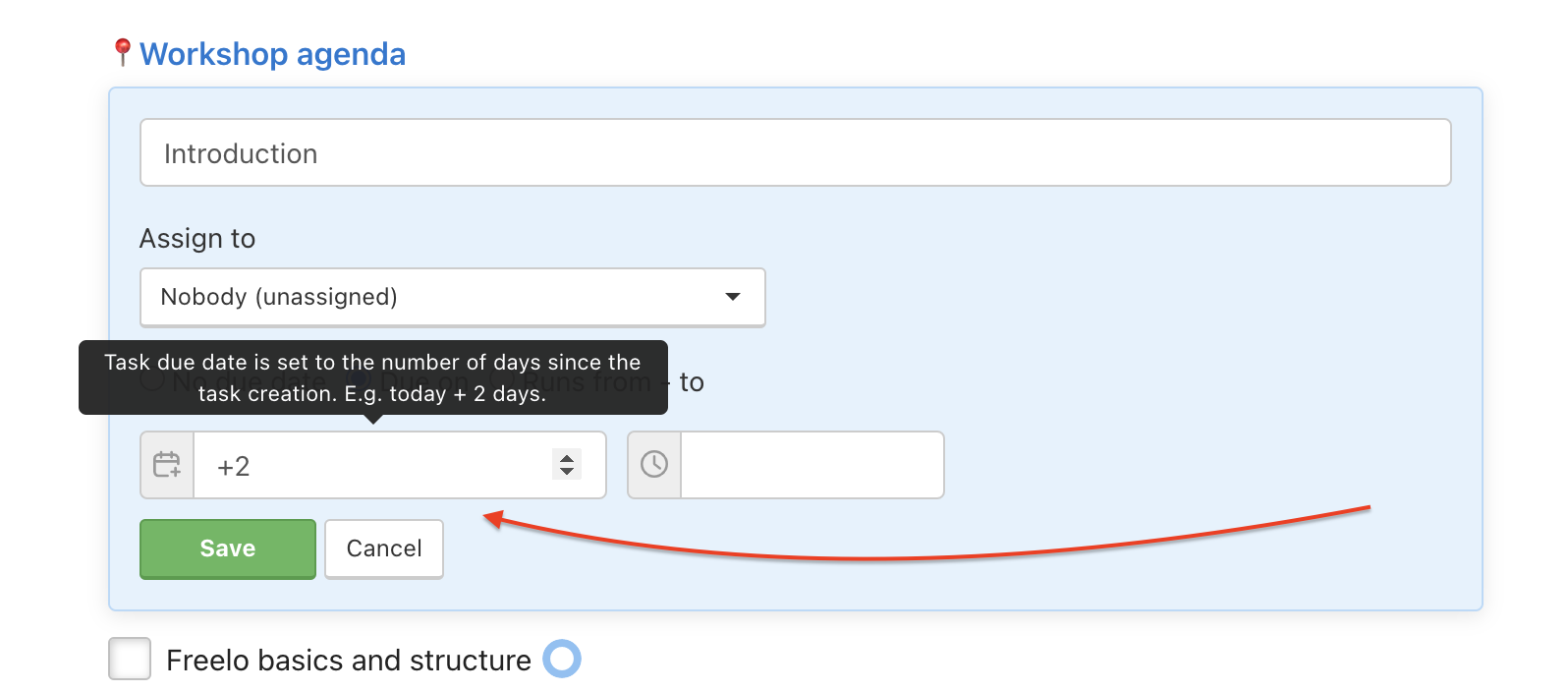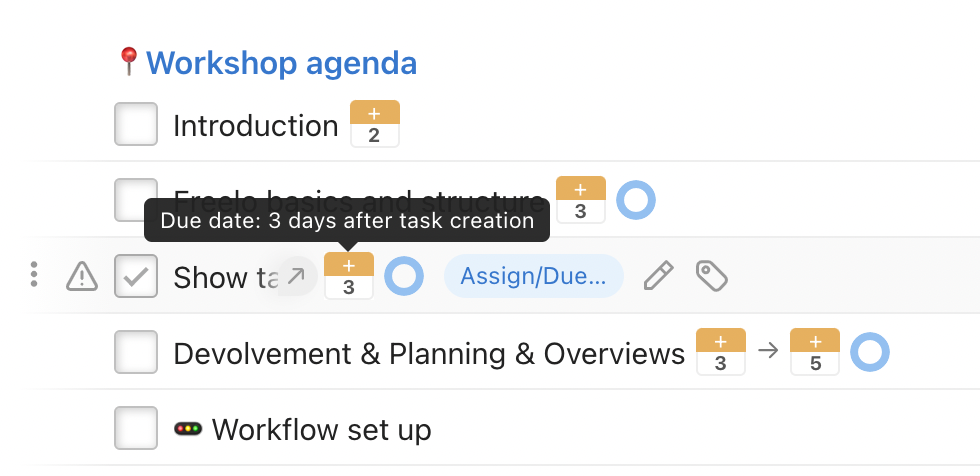 What is converted from the template to a new project?
The structure of To-Do lists, tasks and subtasks
The first comment in a task or subtask
Sub/task assignment to other users (solver must be invited to the template and the new project)
Pre-set floating due date based on the date you chose when creating a new project from template
Text form of the template
You can have every template written in text form.
Multiple To-Do list creation
Go to particular project and click the arrow icon next to red title To-Do lists > Add more items…
In the following form add To-Do list, tasks and subtask in precise form:
= To-Do list name
Task name
– Subtask name

Multiple task creation
Click the arrow next to Add task > Add multiple tasks…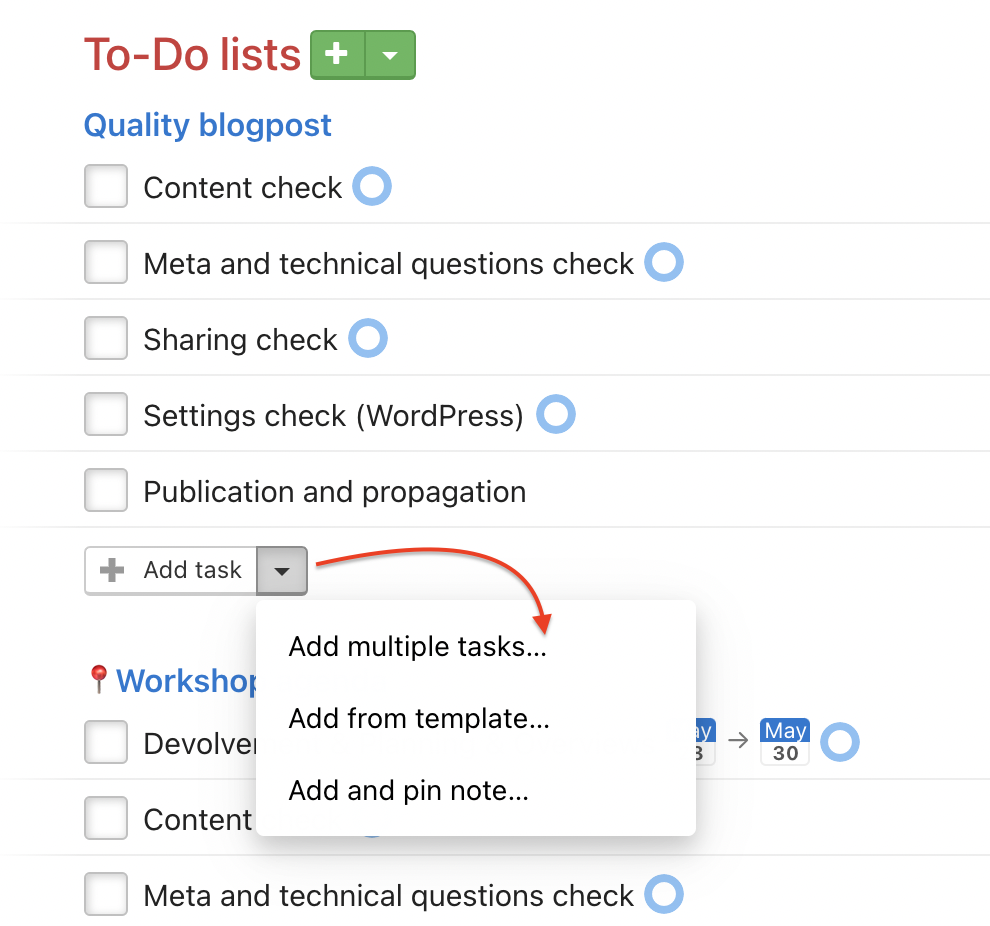 In the following window input particular tasks and subtask. Enter a list of task names without any marks. Write one task per line. In case you want to add subtask add dash in front of the subtask name.
You can also assign all of them to one user via Assigned to or add due date. Confirm via Save.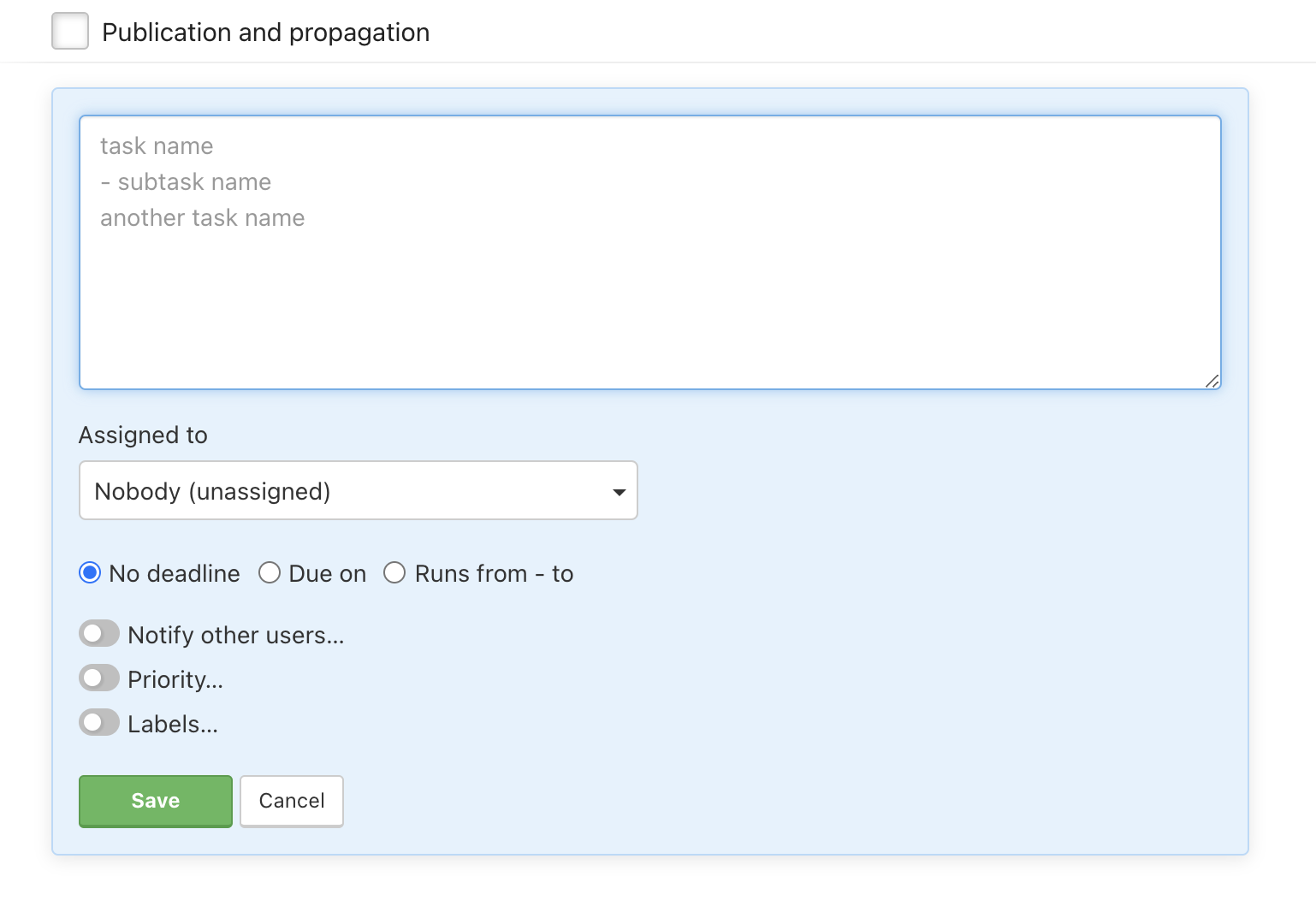 Template transfer
The template transfer works the same way as project transfer. It might come in handy when Project managers create templates under their accounts at the beginning or when you have a new boss/team captain.
Go to the section Projects in the upper blue bar > All projects > Project transfers.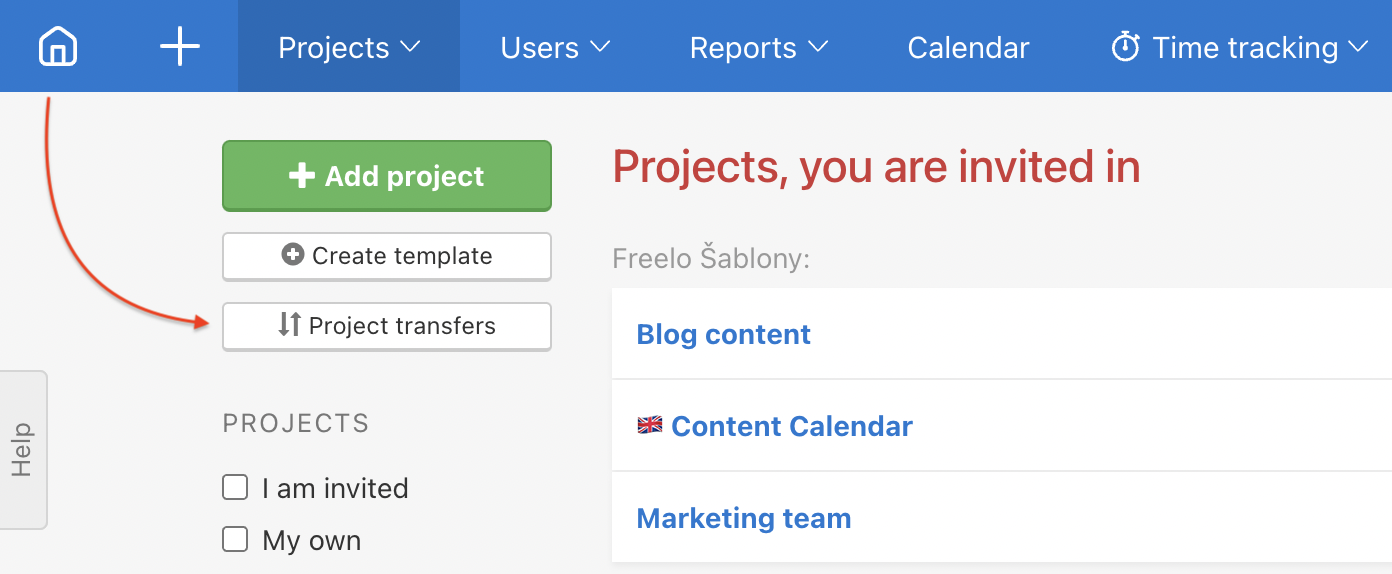 You can transfer your own templates to another user – the best choice is the captain with paid account plan, via Transfer to user. Another way is to request template transfer from the current owner to you (only if you are invited to the template) – Request from users.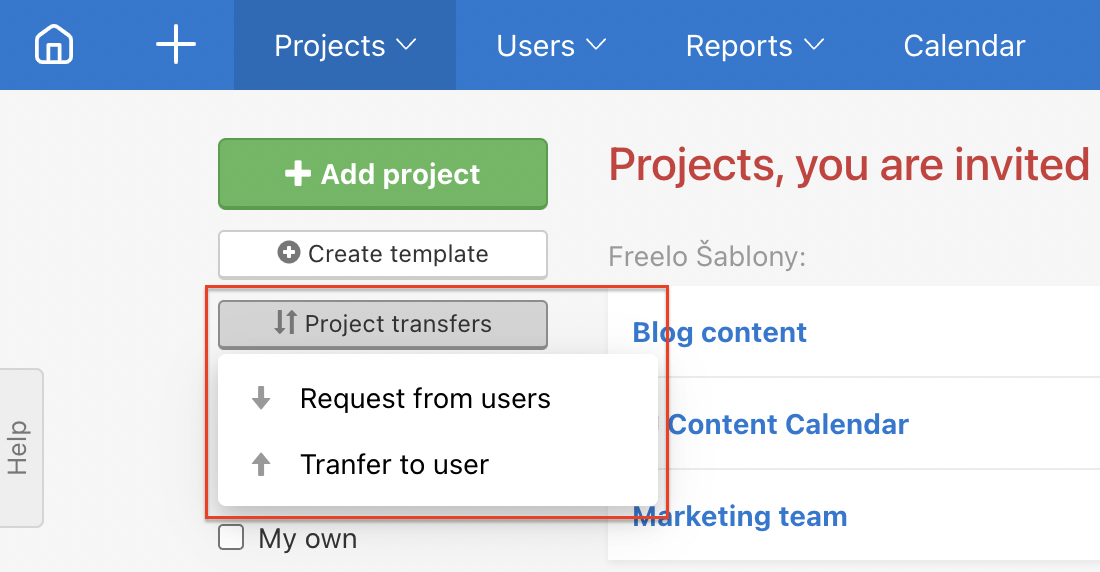 Template transfer to another user
In case you want to transfer your own template to someone else, you have to click checkboxes next to the template name. Below select the new template owner > Who do you want to transfer your projects? and confirm via Transfer selected projects.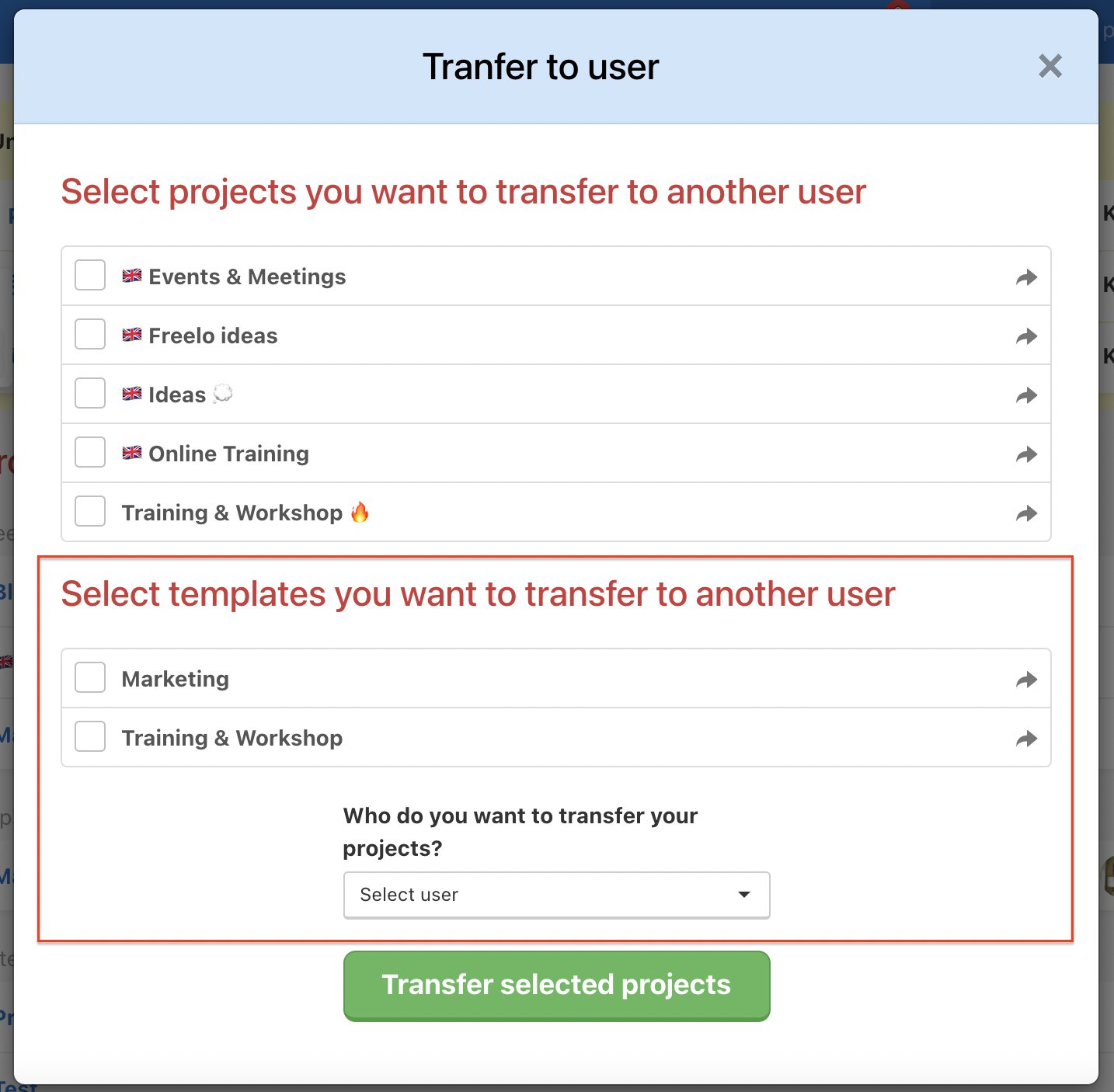 Template request from a user
You can request a template transfer only if you are invited to the template. Via checkboxes select the templates that you want to own. Confirm via Request project transfer.