In Freelo you can track time and report costs over tasks. It helps you keep an eye on the financial side of the project and also see where you waste too much time. Time and money reports can be used as invoicing details.
Time tracking
The easiest way to report the time over task or subtask is using time tracking. Another way is adding time and cost manually.
There are 2 ways to start tracking over tasks and subtasks.
1. Play button in header
When you start working on something click the play button in the upper blue bar and the time starts to run immediately. The top blue menu is available anywhere in Freelo. So you can start tracking anytime.


Tracking needs to have assigned tasks so it can become part of reports.
When using tracking in the header, it is saved as an unassigned report. Later you should assign each tracking to a particular task or subtask, so it can become a part of the project report. Start tracking via the play button icon in the blue top bar. It immediately turns red so you know the tracking is running.
Assign a task
When running tracking you can assign a particular sub/task. Click the red tracking and No task assigned. All unassigned reports are in section Unassigned tracking below.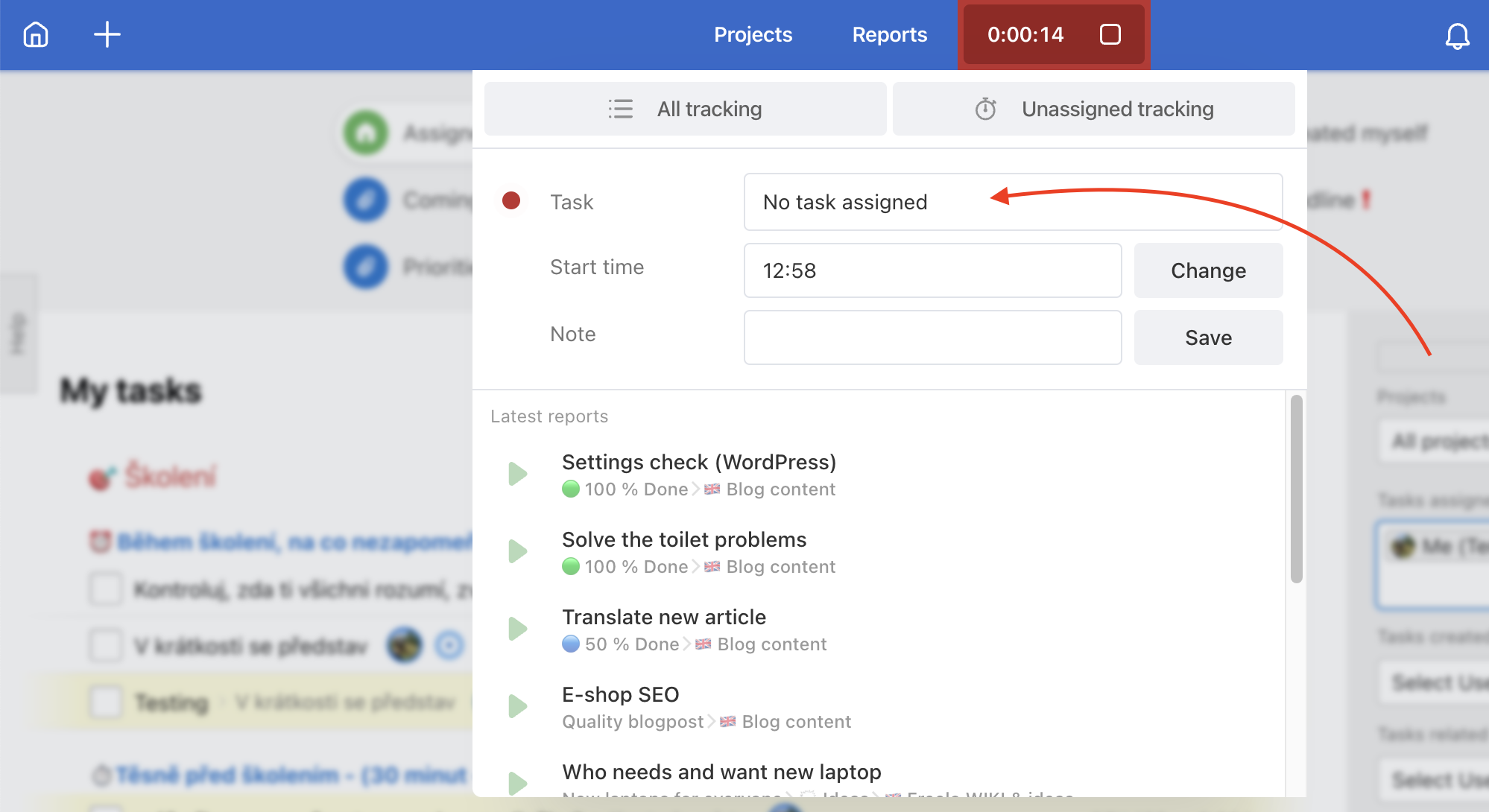 In the following Timetracking page, the running tracking is at the top. Click Choose a task or start tracking… and select task or subtask. You can also add notes to report, change hourly rate or stop tracking.

Edit Start time
Click red running tracking > Start time. Enter time, when you started working and confirm via Change. Below you can Add a note to this report.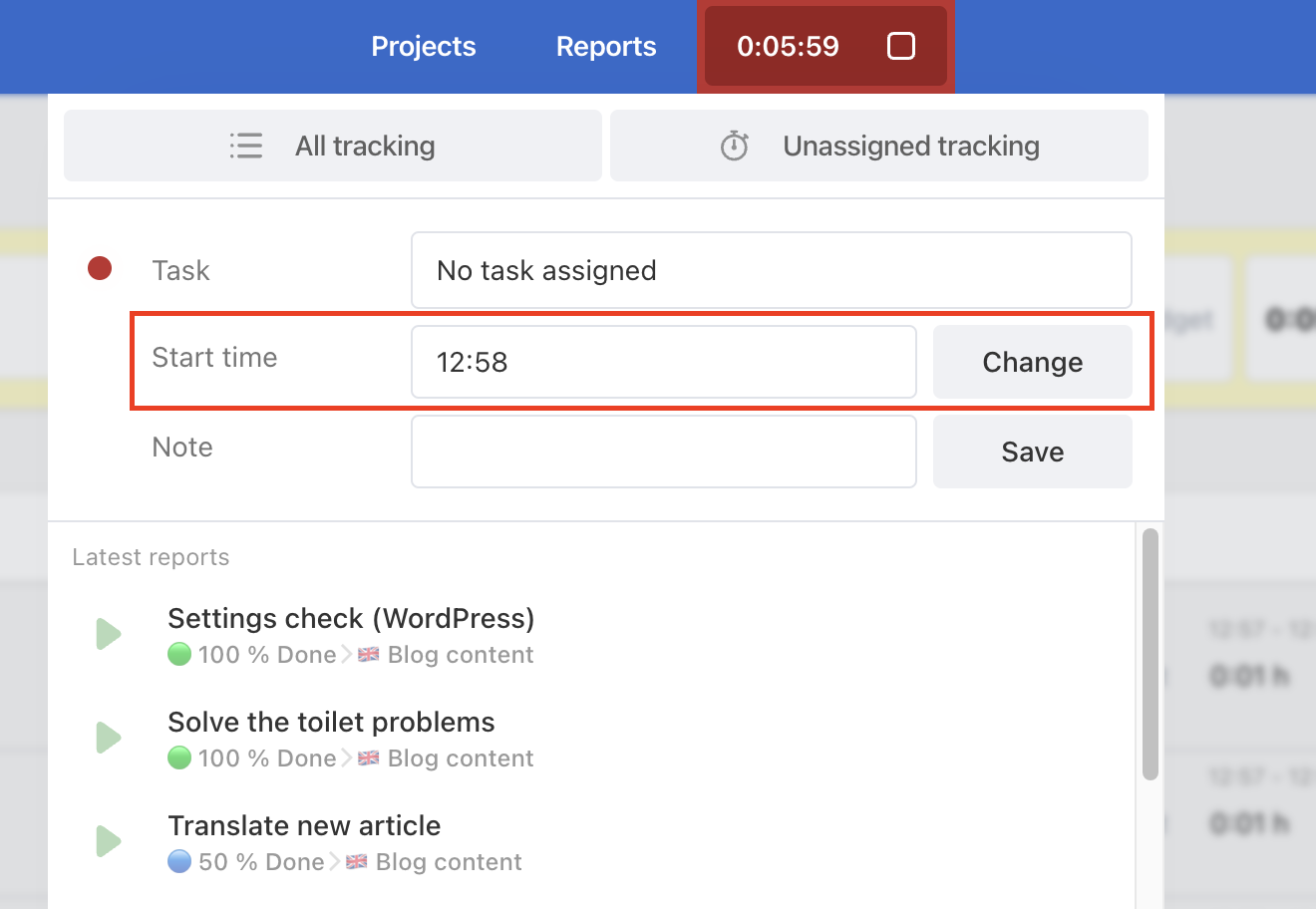 2. Play button in sub/task
Go to project detail and find the sub/task you want to work on. Press the play icon on the right from the task name.
In case you were tracking in another task before, that tracking is automatically stopped and starts the new one in the current task. The play button icon turns red.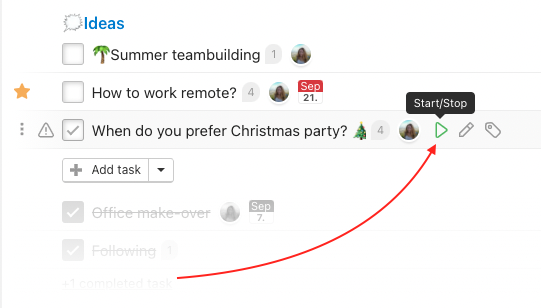 The current task you are tracking has a red dot where you can stop tracking.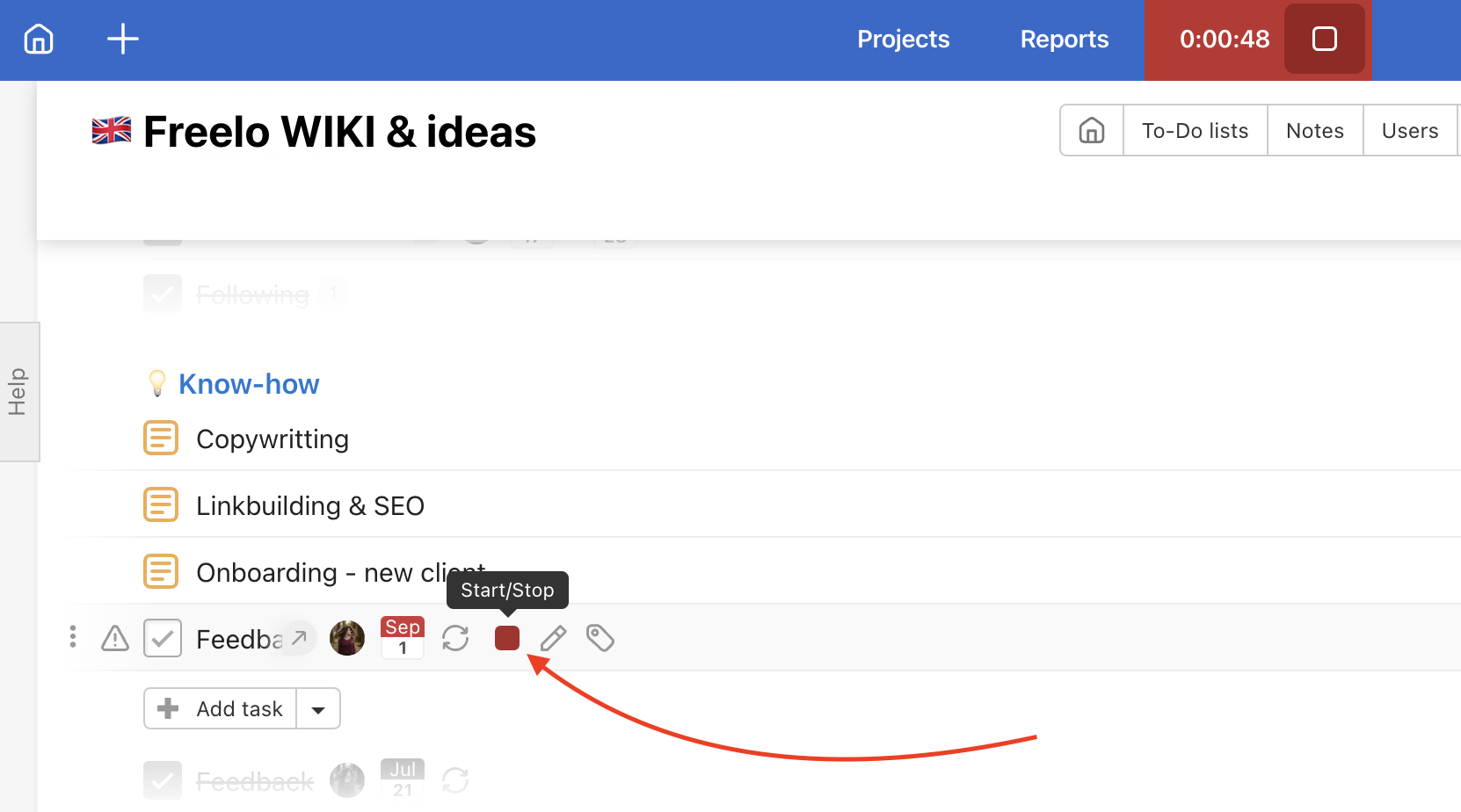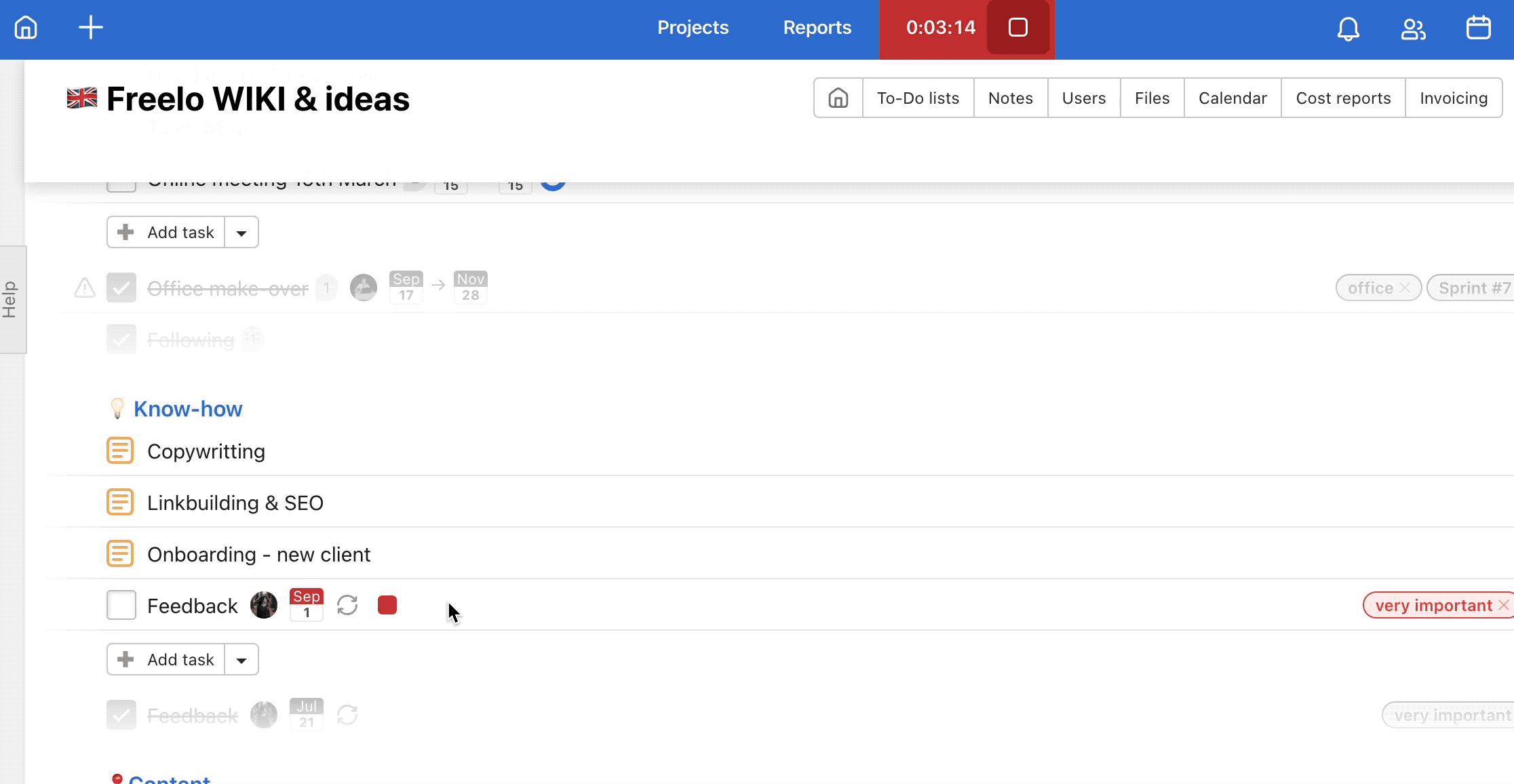 In project detail you can quickly switch tracking tasks. Just click the play/stop button.
Overview of tracking
Important part of time tracking is an overview of all reports. Go to section Timetracking > All tracking or via the red running time. Assign tasks or subtasks to particular reports.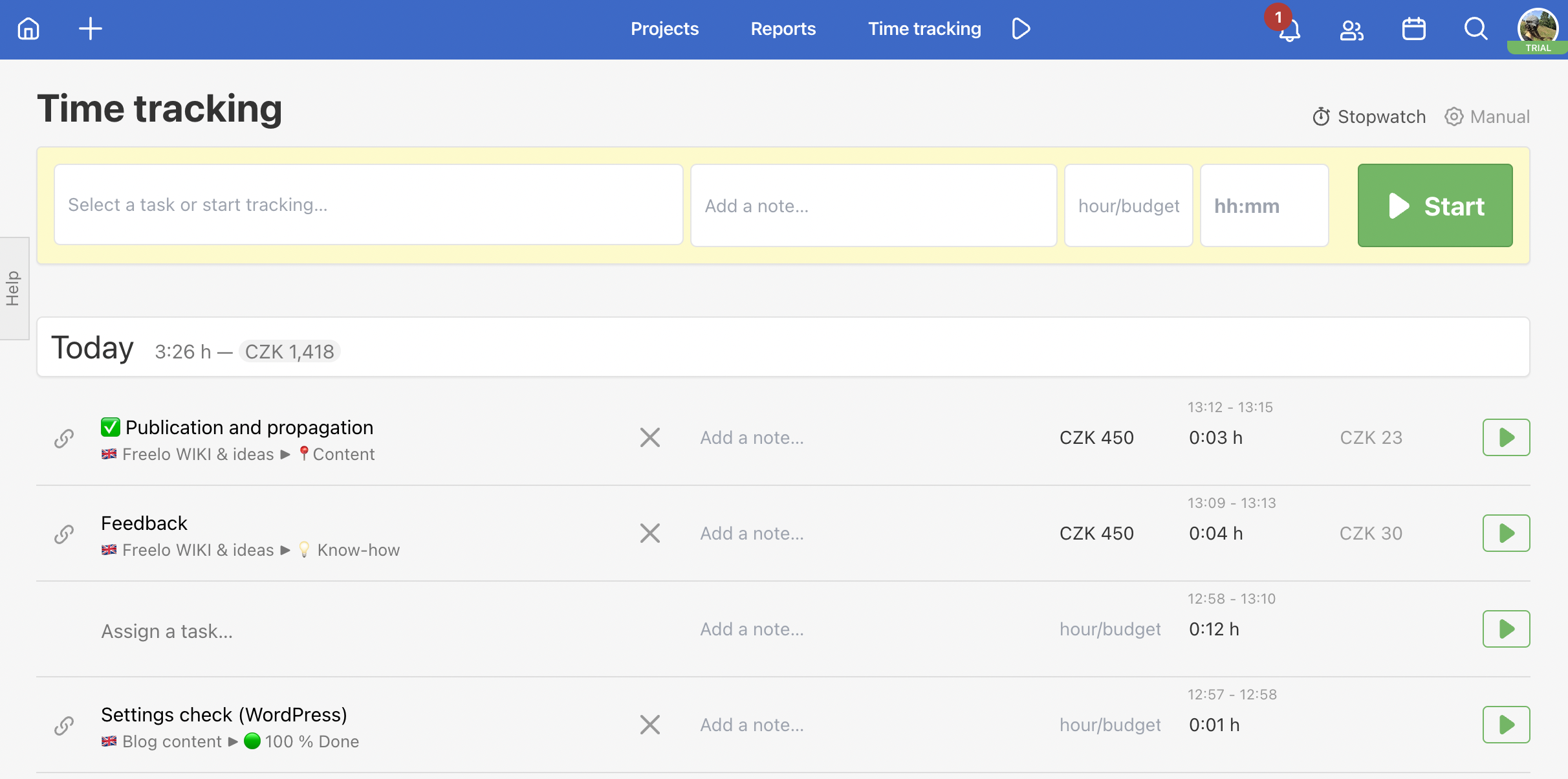 Tips for manual input of time
You can enter the following forms of time in the field hh:mm.
5m → 5 minutes
2:20 → 2 hours 20 minutes
2,5 → 2 and half hours (works up to number 9 – higher numbers are taken as minutes)
15 → 15 minutes
250 → 4 hours 10 minutes
0830 → 8 hours 30 minutes
1300 → 13 hours 0 minutes
Multiplication by hourly rate
If you enter your hourly rate and also the time, the data are automatically multiplied. When my hourly rate is CZK 500 and I spend 2,5 hours on the task, Freelo automatically calculates the total amount for that time – CZK 1,250.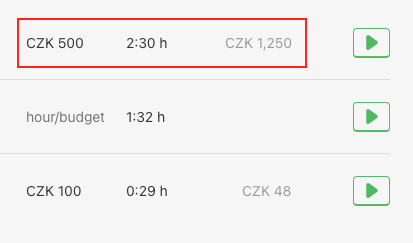 Manual reporting
Time or cost reports allow you to track the financial side of projects as a real number.
Go to project detail and find the task or subtask you want to add to the report. On the right is clock icon (1.) or already tracked time/money (2.) > click on it. Appears form, where you can add a note for the report via Add a comment…, fill in the cost/hourly rate in hourly wage and time in hh:mm. Confirm by Save.

It is not necessary to fill in all details. You can add cost, time or both – it is up to you.
Manual reporting is also in Timetracking section. In the top right corner just switch to Manual. It might be helpful, in case you use stopwatch mostly. Just switch at one page between manual and stopwatch reporting.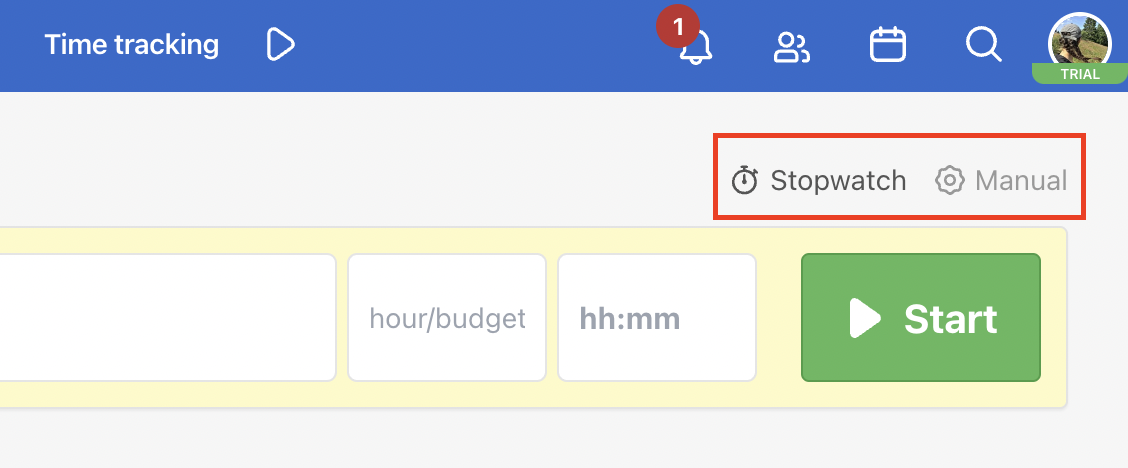 Edit reports
You can edit your own reports. Go to All tracking (via Timetracking) section or directly in the task or subtask detail. The change is automatically updated in all reports. As the captain (project owner) or Admin of the project, you can also edit the reports of others users in the sub/task detail.
Task detail
Click the reported numbers on the right. Now appears in the editing form. Each of your reports has a pencil icon for editing.


In case you accidentally delete one of the reports and want to recover it, simply click on Undo in the green pop-up window at the bottom left of the page. You can do so in the Timetracking section as well as in the task/subtask detail.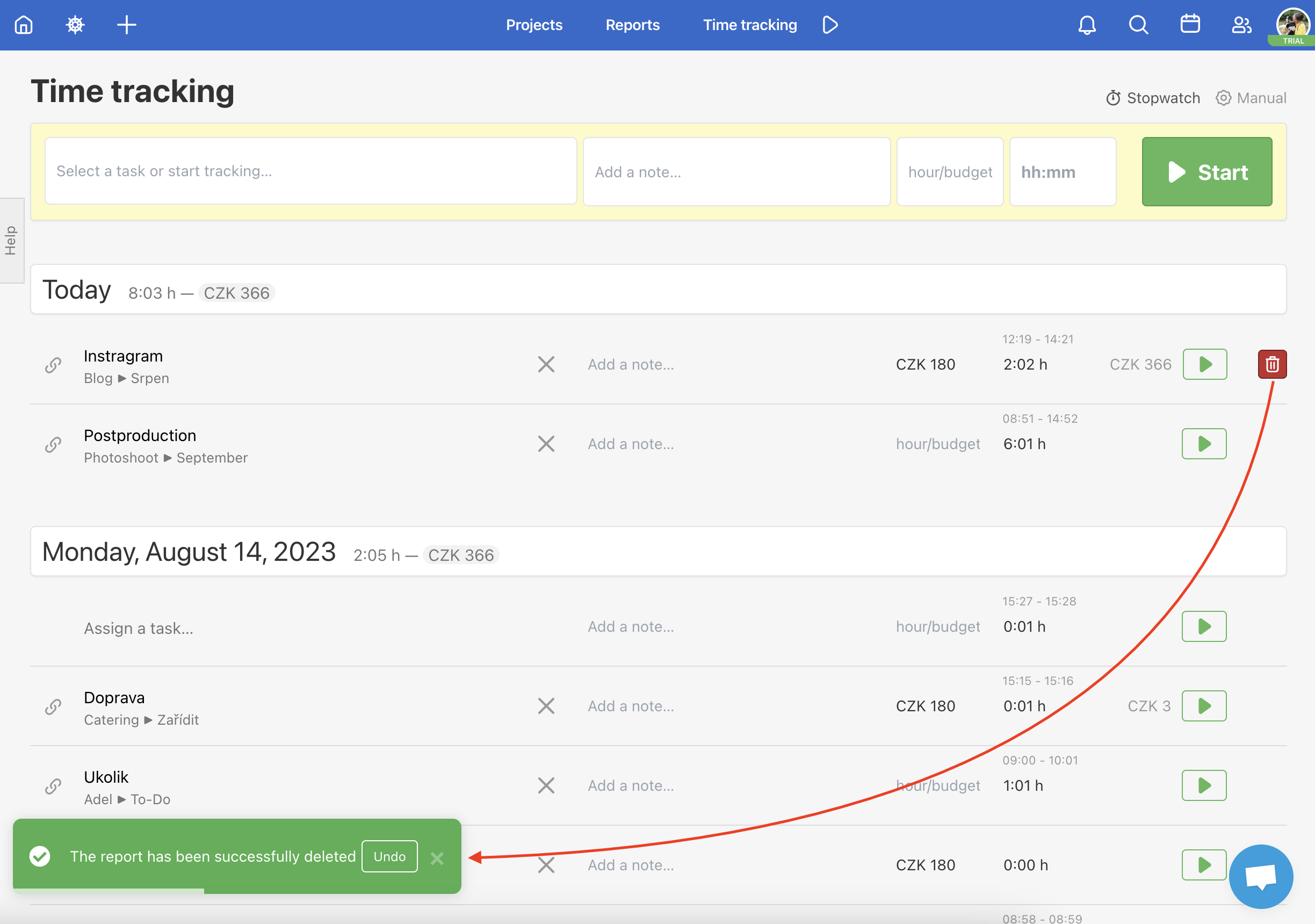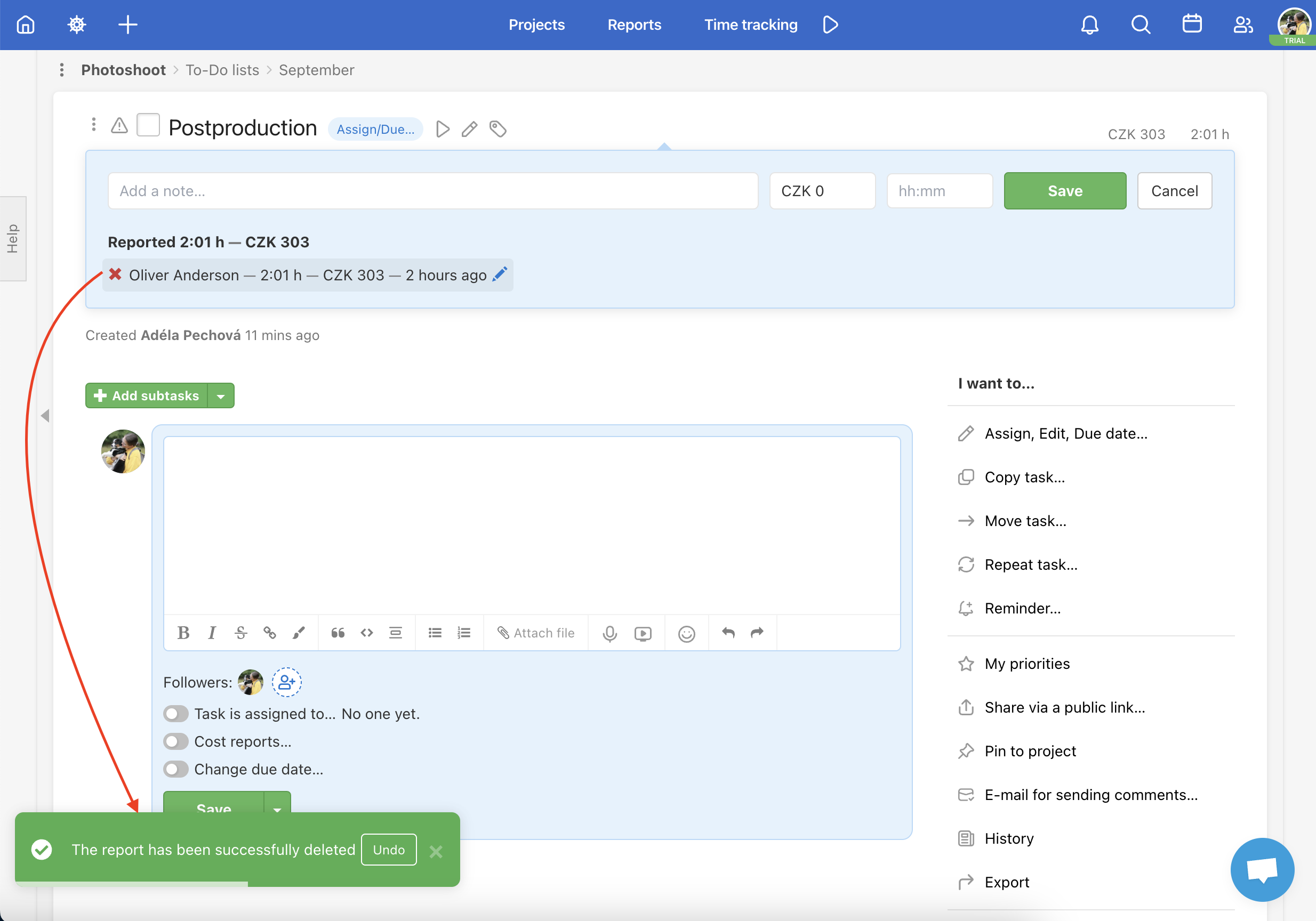 If you decide to delete someone else's report, a modal window with a confirmation request will appear. The user will be notified about this action.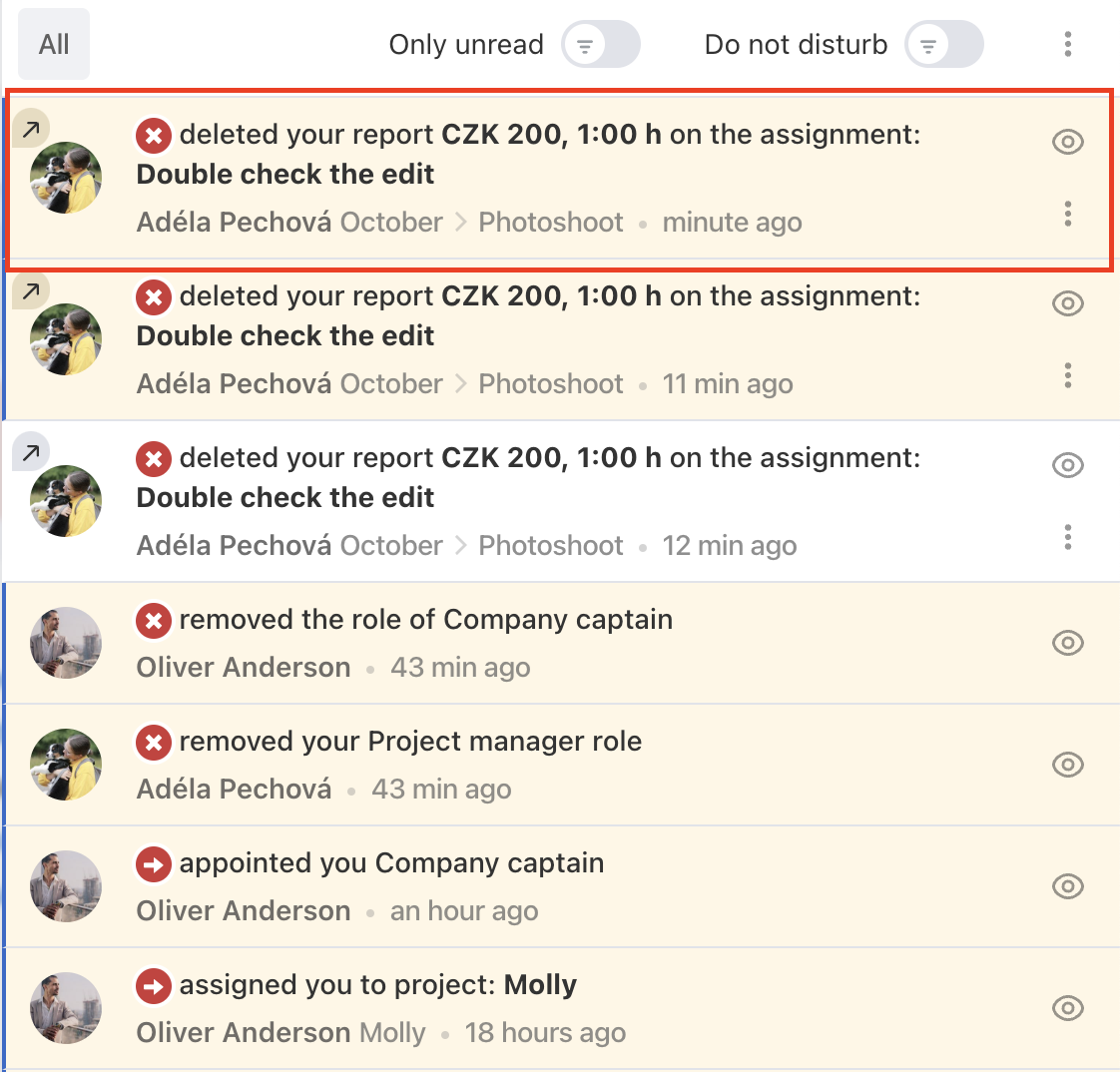 All reports/tracking
You can edit your own reports also in section Timetracking or All reports. Just click the amount of time/money and start editing.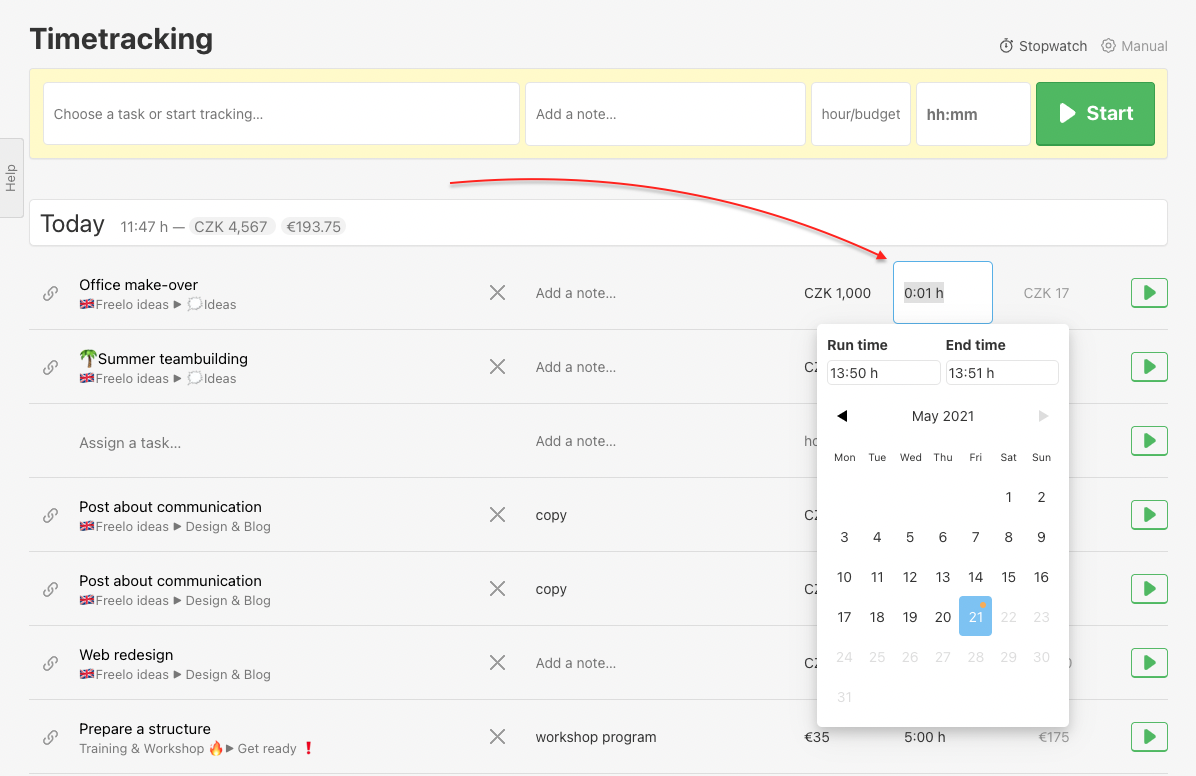 Report as cost
You can use reports as spend costs over the task. Add the sum of money for material, goods, travel expenses or amount for business dinner. You do not have to enter the time. Report only the amount of money in this case. Have a look at how to invoice reports in Freelo.
User's hourly rate
Each user can have their own hourly rate per project. Hourly rate can set up the project captain (owner of the project), admin or the user self. Go to a particular project, find the section Users and set up the hourly rate for other users, if you are project owner or Admin.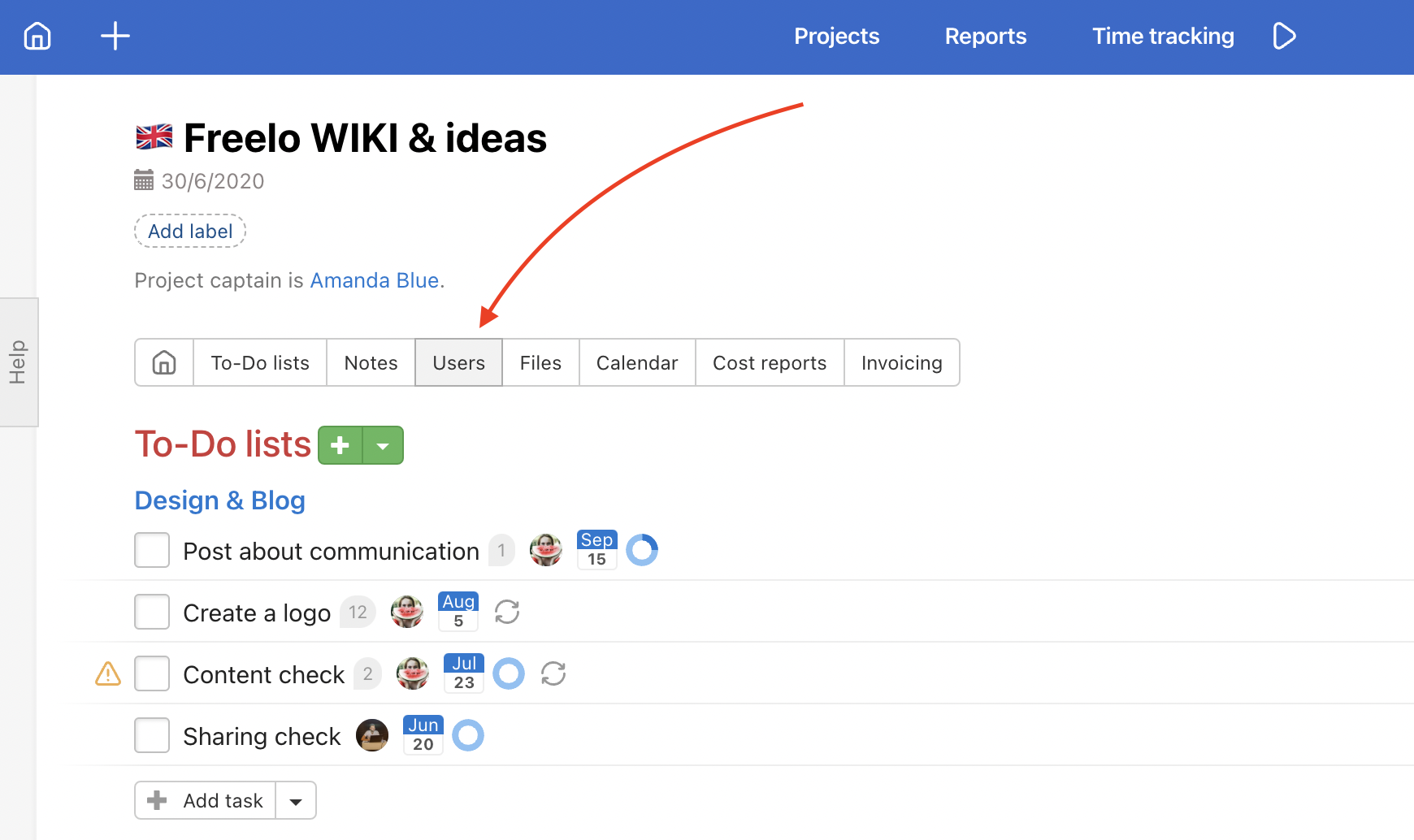 You can also lock the hourly rate so your employees cannot change it but they will see it.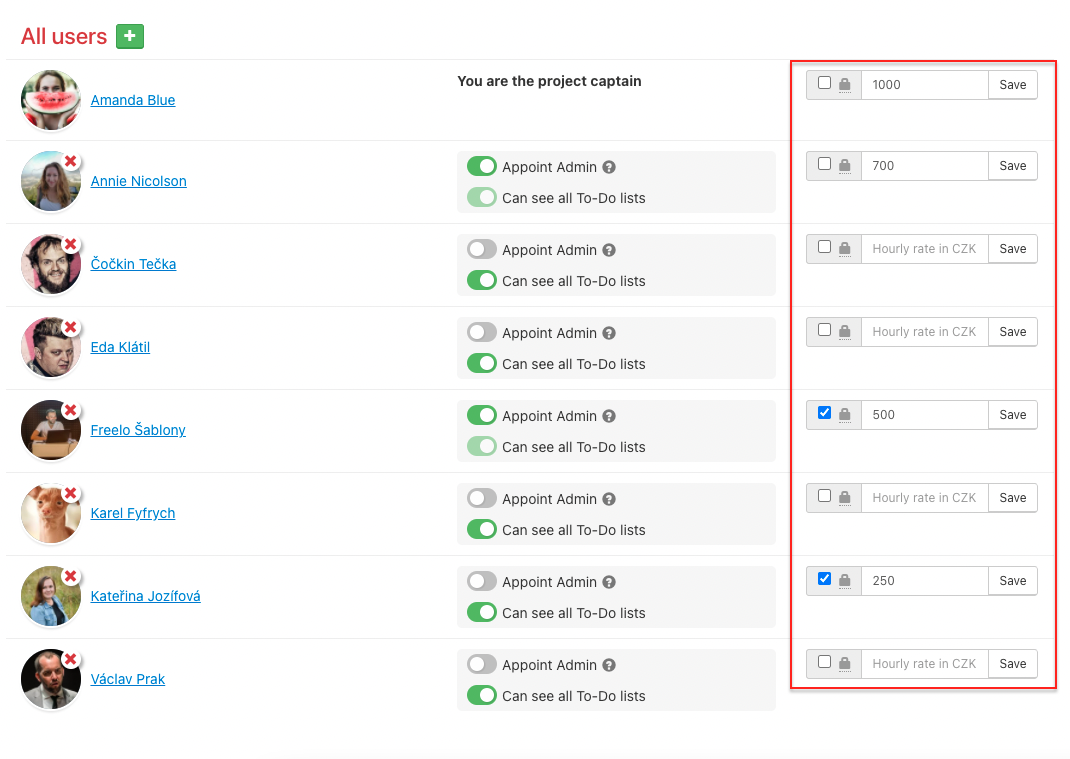 Bulk setting of hourly rates
Within our Business plan, it is possible to set an hourly rate for multiple projects and users at once.
Simply go to the Users section in the Business panel, where you can select the Hourly rate option via the three-dot menu for a specific team member.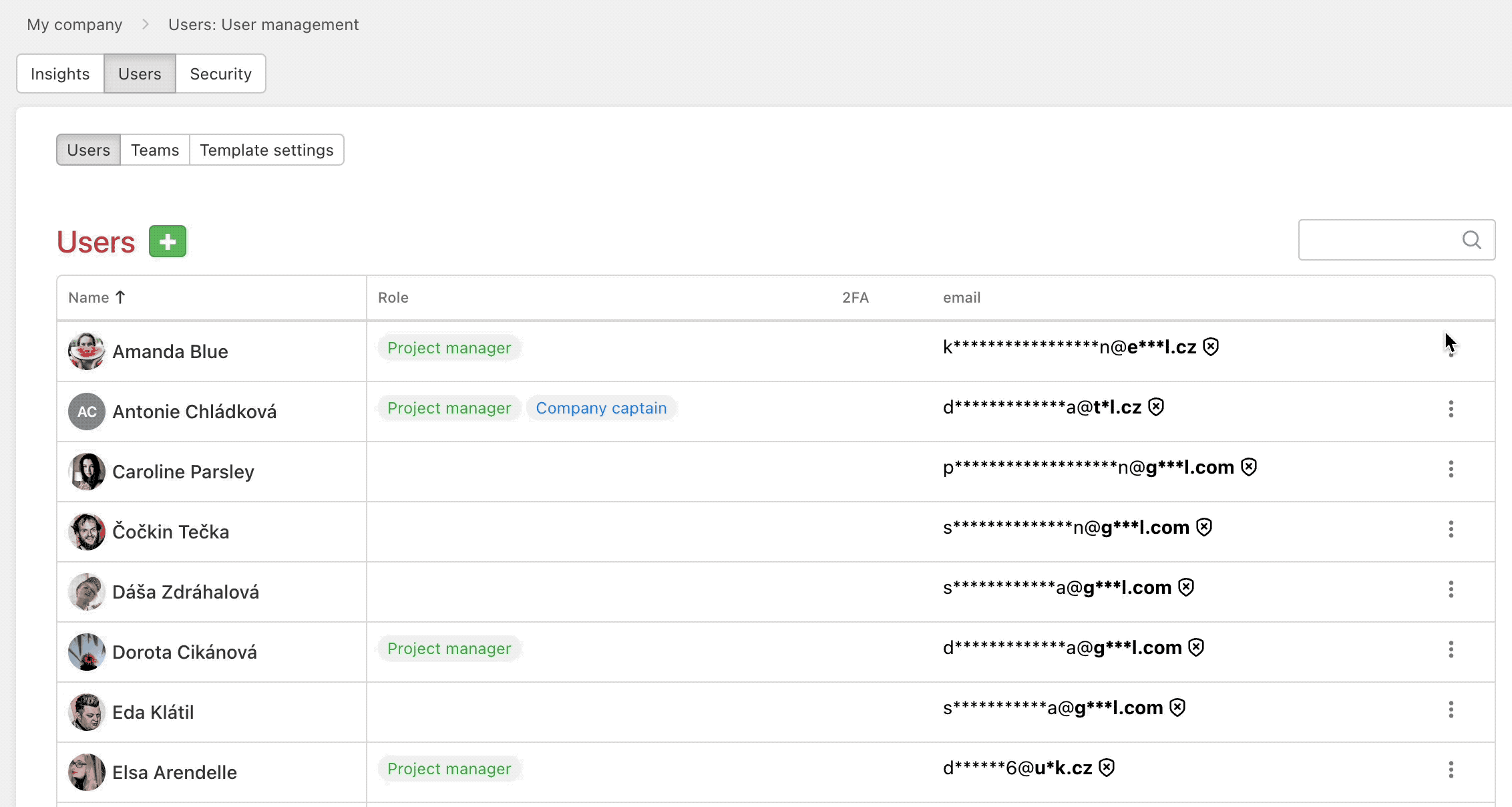 You can add a specific hourly rate for each currency, select projects and you can also choose other options such as setting an hourly rate for future projects or setting up multiple users.
In the Business panel you cal do all of the above in one place.
Work with Cost reports
The reports can be easily downloaded, filtered (1.), edited in Excel (2.), invoiced and controlled. Go to section Reports > Daily or Weekly and monthly in the Reports section.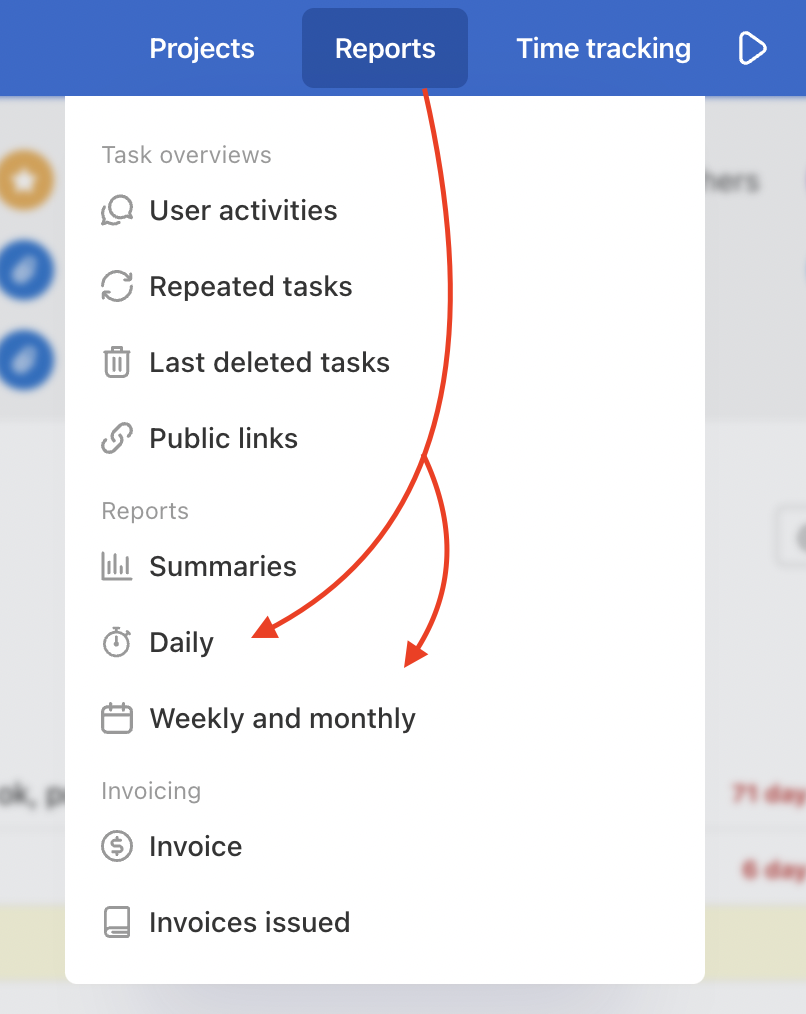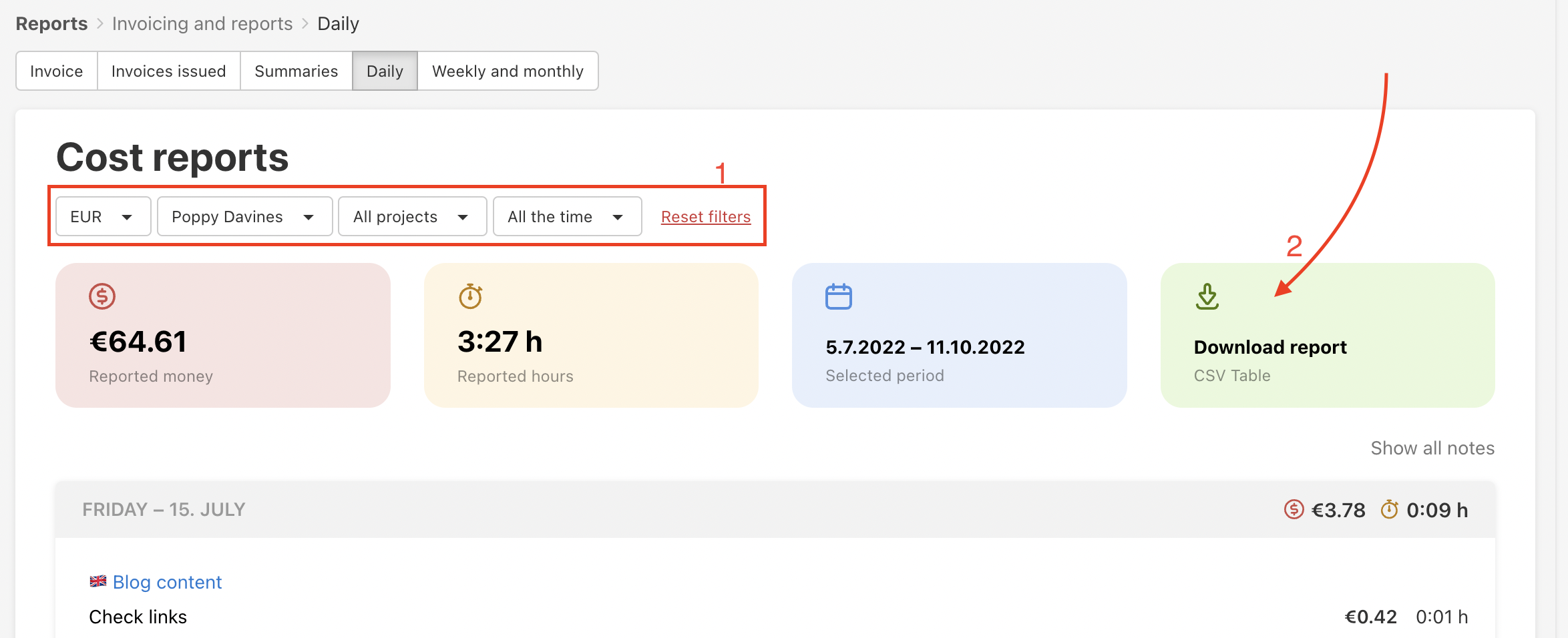 Another view is via Weekly and monthly reports where there are more options to filter, order and display the reports in the tab. Go to Reports > Weekly and monthly.
User rights in reports
Project owner and admin of the project see all reports automatically. In case you want your team to be transparent or have the same view you can share your statements with any other user.
How to share reports
Each user can decide which other user can see his/her reports in a particular project. Go to the project detail and find section Cost reports > in top right corner select icon saying Who can see my reports.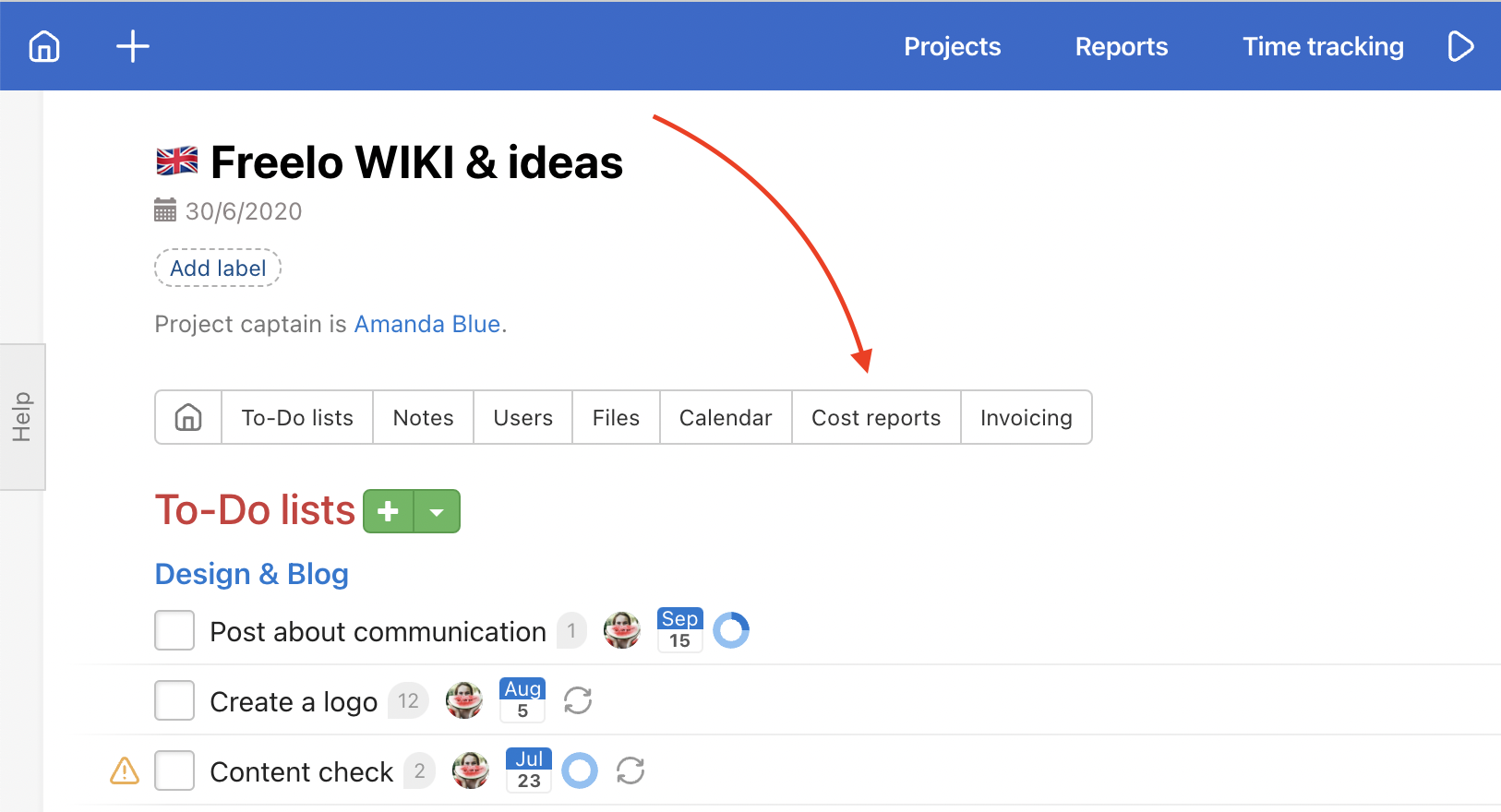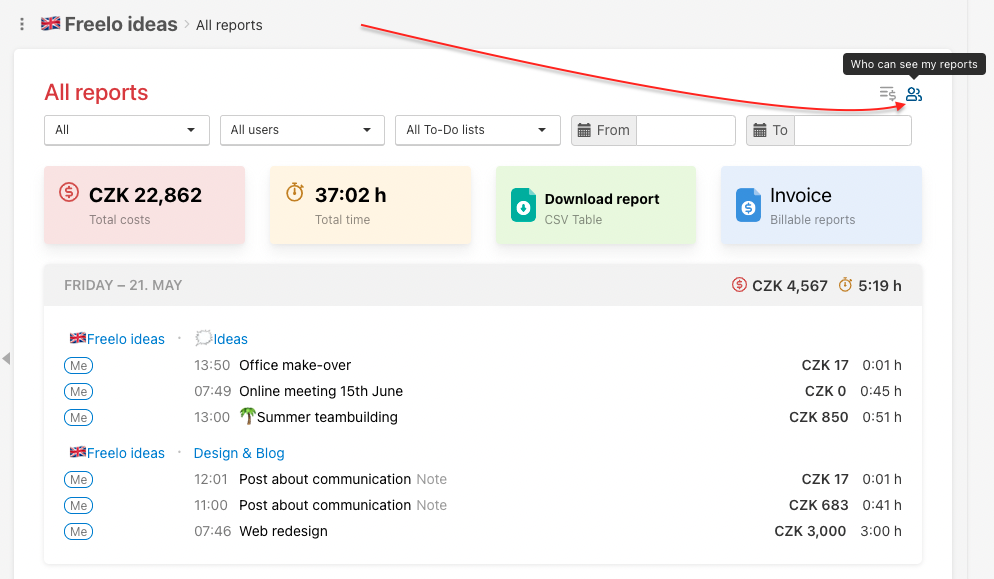 This is how to share reports to anyone else, no matter whether it's captain, Admin or just an invited user.
Click My reports are visible to and select colleagues who you want to share your reports with. Freelo offers users who are invited to the project only.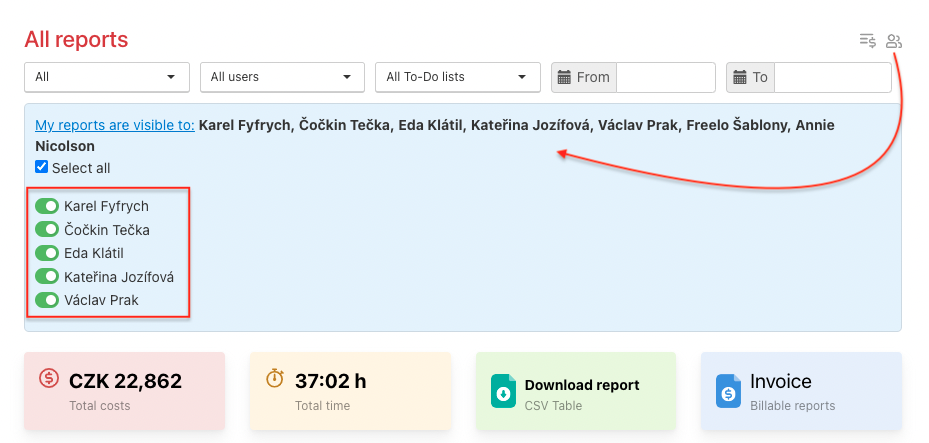 Reports in subtasks
Reports in smart subtasks are summed in the superior task.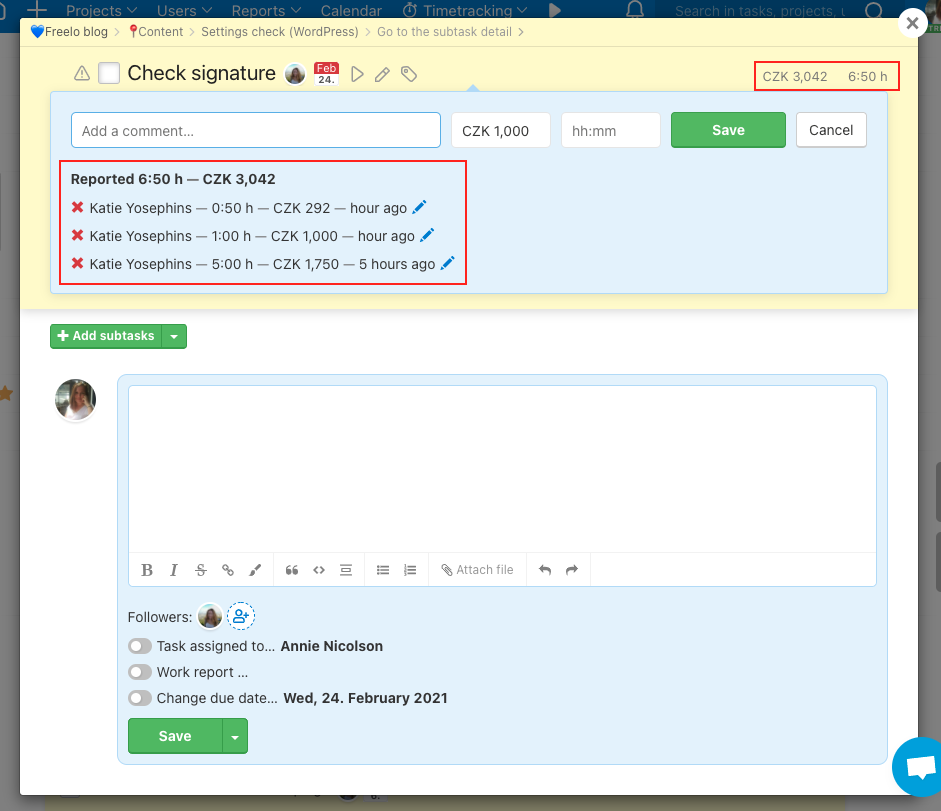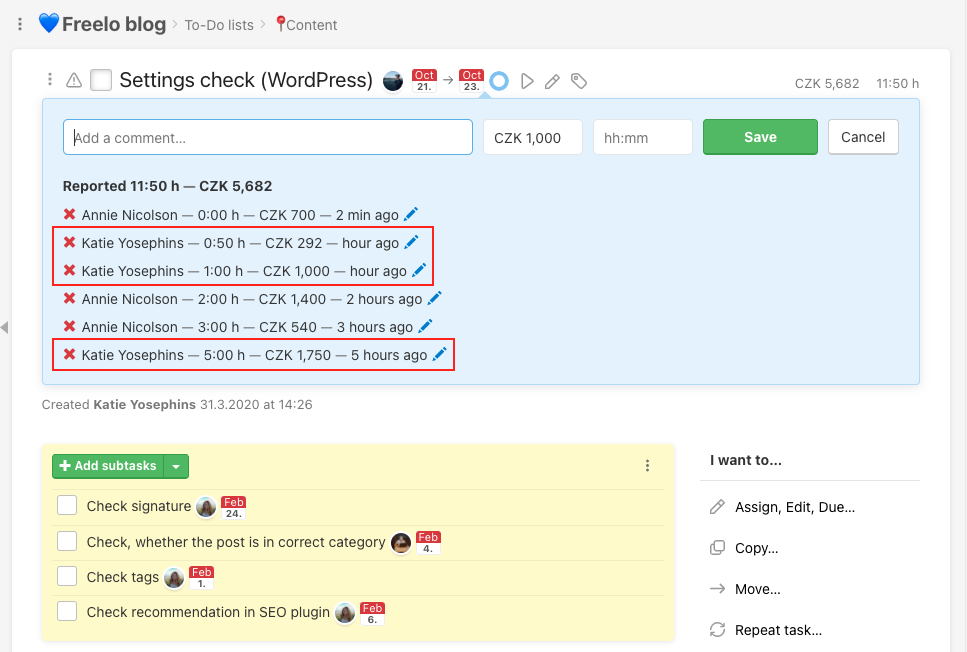 How to track time/costs in subtasks
Report can be added the same way as in tasks – via clock icon in the subtask detail or using tracking.
1. Manually via clock icon
In subtask detail click on the clock icon and add the statement manually. You can add note, hourly rate/cost and spend time. There is no need to fill in all the details.

2. Tracking via play button
In subtask detail or in the modal window of the subtask (called via keyboard shortcut mouse over the subtask + Q or the bubble icon with number of comments) start tracking. Tracking begins via the play button.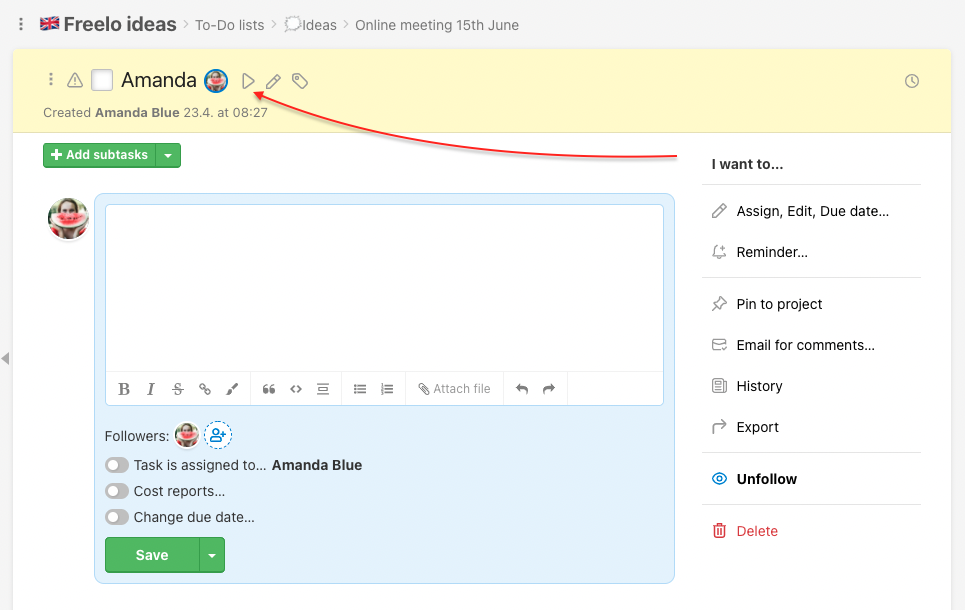 Stop the tracking via the same button as in the task.
Timetracking over subtask
Find section Timetracking via upper blue bar Timetracking > All tracking. There is all your tracking and you can assign tasks or subtask to report. In the navigation is visible the superior task. Unassigned tracking is not part of reports.