Inviting colleagues or clients to Freelo is easy. Click on plus icon in upper blue bar on the left > Invite Users.
Who can invite new users? Only the project captain (owner) or Admin of the project. In case you have Free plan, you can invite 2 users to your projects.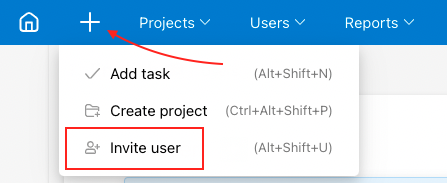 Then type user's e-mail (or more at once) and there is option to invite them to particular projects directly. Add one e-mail per line. Confirm by Invite users.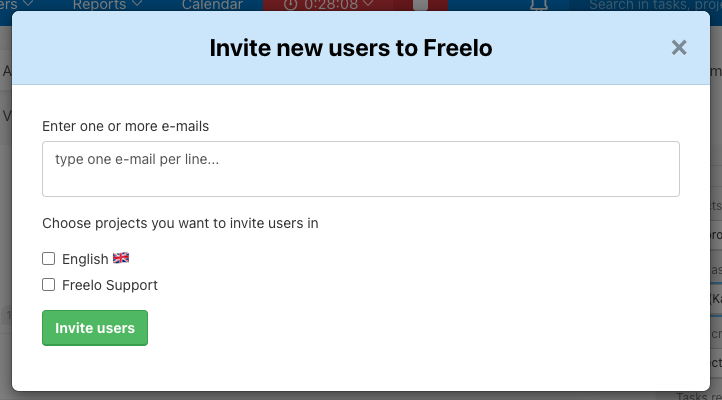 Invite a user to the project
You can invite a user to particular project directly. Go to project detail and find section Users. Click on the green plus icon. Select users from drop-down menu. You can invite the user to some of the To-Do lists.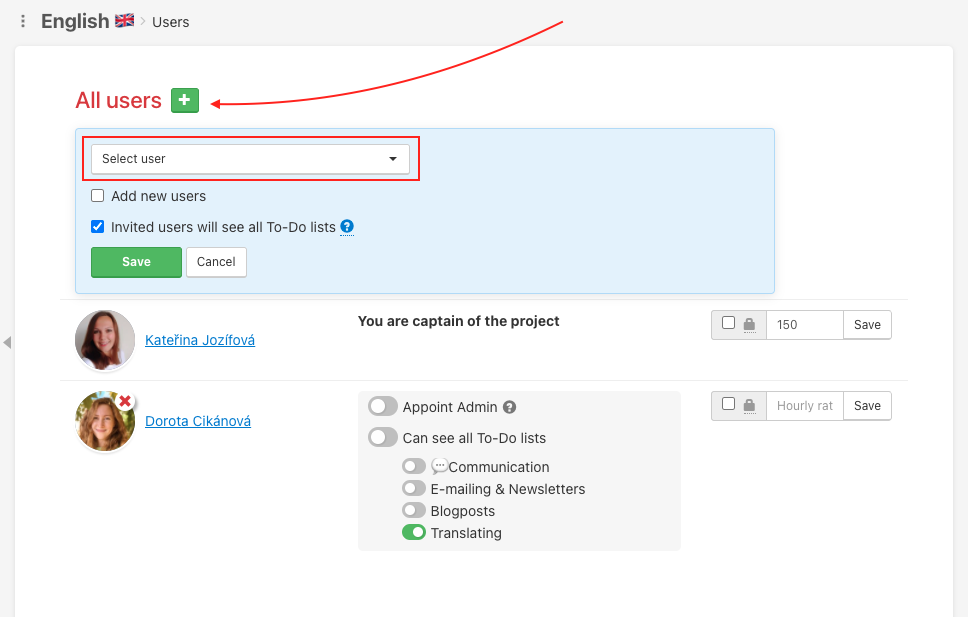 If you want the user to see only a few To-Do lists, check out the option Invited users will see all To-Do lists and select only those you want the user to have an access.
Otherwise, you can leave the checkbox checked and your colleague or client will see all the To-Do lists in the project.
Confirm your invitation by clicking the Save button.
Invite new users to Freelo
You can invite multiple users to the project at once. Go to project detail and find section Users. Click on green plus icon and select Add new users. Type one e-mail per line. Confirm and invite the users via Save.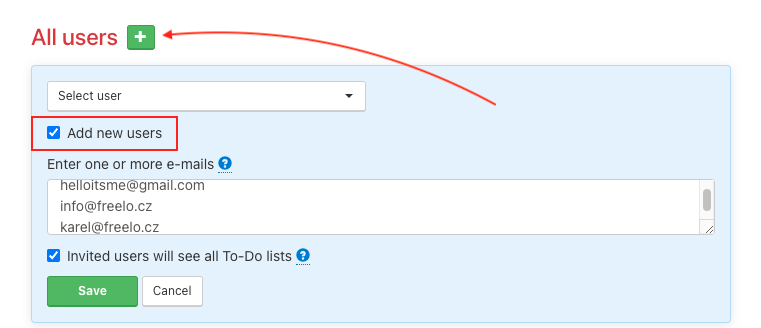 Once users are already invited to Freelo and you share some projects, you can select them from the drop-down menu.
Invite a user to multiple projects at once
In case you need to invite someone to more than one project, use this way and save time.
Go to section Users in upper blue bar and All users. There is a list of users who you share projects with. On the left click on the green button Invite users and pop-up window appears.
Type the users e-mail addresses and select projects you want to share with them. Confirm by Invite users.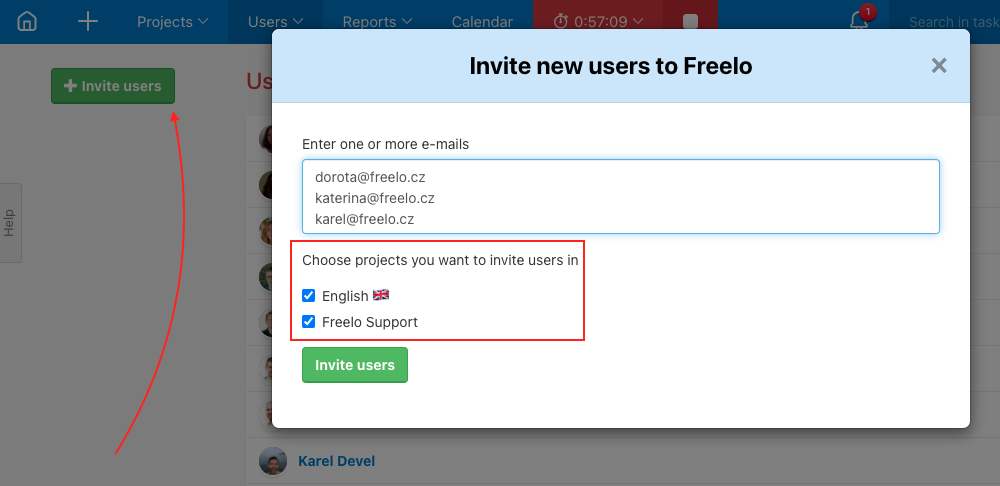 Users you share projects with
Another way how to invite one user to multiple projects is via the three-dot menu. Go to section All users via upper blue bar. Find a section Users with whom you share projects. Click on the three-dot menu on the right and choose Projects where…

Using the checkboxes on the left you can select which projects you want to invite the user in. You can also set the user as an Admin of the projects. Confirm via green button Save.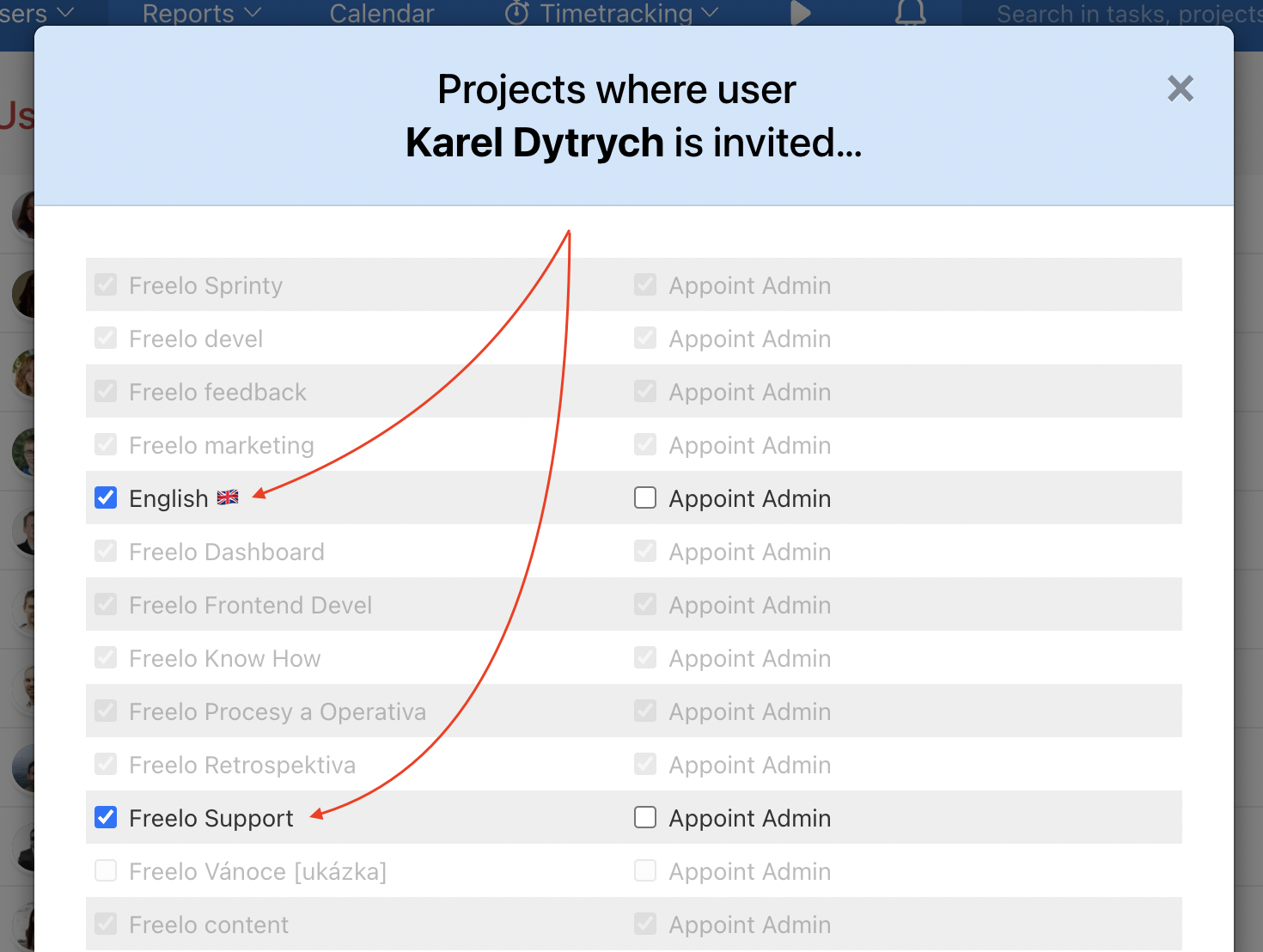 Non-delivery of the E-mail invitation
Just remove the user and invite him/her again to the project. A new e-mail invitation will be sent. We recommend you to check the SPAM folder in your e-mail.
In the section Users > All users in upper blue bar find a user without confirmed invitation (his/her avatar is with exclamation mark). Click on the e-mail address and then you can copy a link and send it to the user directly.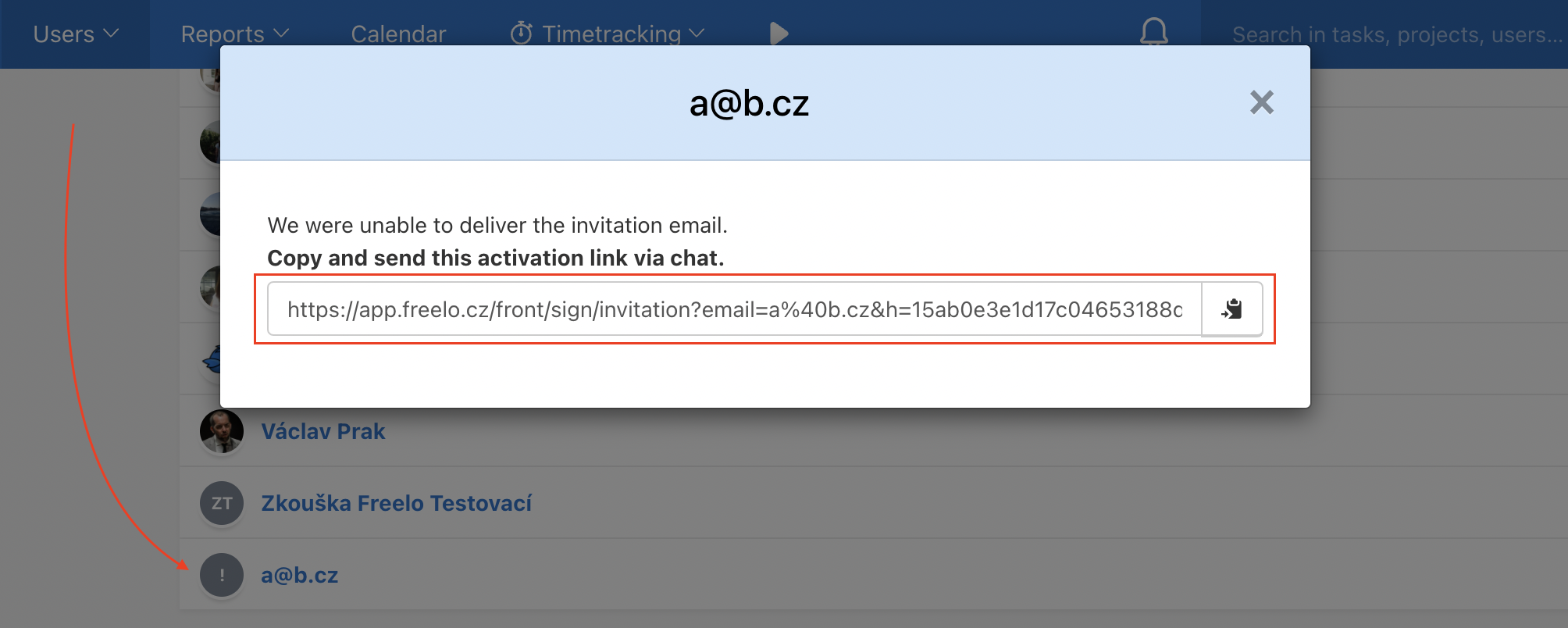 Password change
You can change only your own password. Go to your profile Settings via the avatar in top right corner. You can enter the current password and type a new one. In case you forget your password we would recommend to reset it via forgotten password procedure (but first please log out).
You might want to check how to change your password.