Every registered user starts with a 14-days Trial plan. During this period you can try all the features that Freelo offers. What is going to happen after the 14-days period? What is the difference between the paid accounts with one of our plans and the free accounts?
The difference describes the picture below: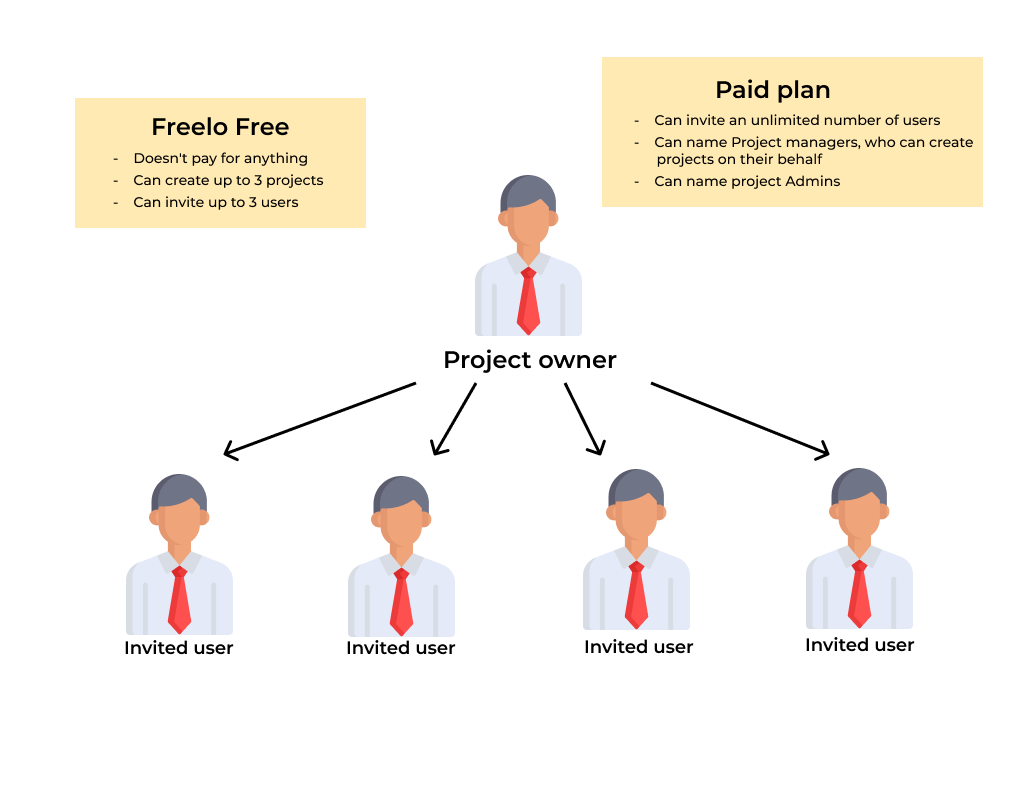 In the Freelance and Team plans you do not pay per invited user. You only need one paid account (purchased plan), through which you will invite as many users as you need into your projects. In the Business plan you pay per invited user only if you exceed the maximal number of users.
The invited users can stay in the Free plan, which allows them to create 3 active projects and invite 3 other users.
The user with the paid account creates projects and invites colleagues, clients and all other people in order to cooperate.
The paid account is usually managed by the team boss, coordinator, project manager or CEO.
Freelo plans
You can pay Freelo monthly or annually. Monthly payments are only possible online by credit card. For annual payments, you can choose between online card payment or proforma invoice and wire transfer. We will automatically give you a 10% discount on the annual plan.
Check the pricing.
Trial
Is testing plan that runs from the time you register to Freelo on your own
During this period all Freelo features are available for you to fully test
The testing period ends after 14 days and we give you the choice to either continue on the Free plan (if you have 3 users or 3 projects invited) or choose one of the paid plans
If you do not meet the Free plan limit but want to use it, we recommend transferring projects to a person with a paid plan or archiving the projects and keeping only 3 active
Tips & Tricks