Thanks to task labels you can mark and categorize tasks and subtasks through all your projects. Simply-looking feature brings the whole amount of the new access and ways how to organize work within your team.
Examples how to use Labels
When creating new labels try to make them as short and clear as they can be. Label should have a clear meaning. Only then your team can assign labels to the tasks correctly.
Label as task Status
Create labels: Started, In-Progress, Done,…

These labels assign according to the current status of task. When you filter them you can check tasks Waiting for Approval only.
Labels for planning Sprints
We are using so-called Weekly Sprints in Freelo. What does it mean? On Monday we discuss what needs to be done during the week = Sprint. We go through task responsibilities, how much time it will take to finish it and also who will help. In the best result is – all these tasks are completed by Friday.
We are using following labels for Sprints: #1 Sprint, #2 Sprint etc. The advantage is that any task in any project can be marked. Everyone can view own tasks on Dashboard or check how did the last sprint go, who is quickly finishing tasks during the current sprint etc. Great help are also custom filters on Dashboard.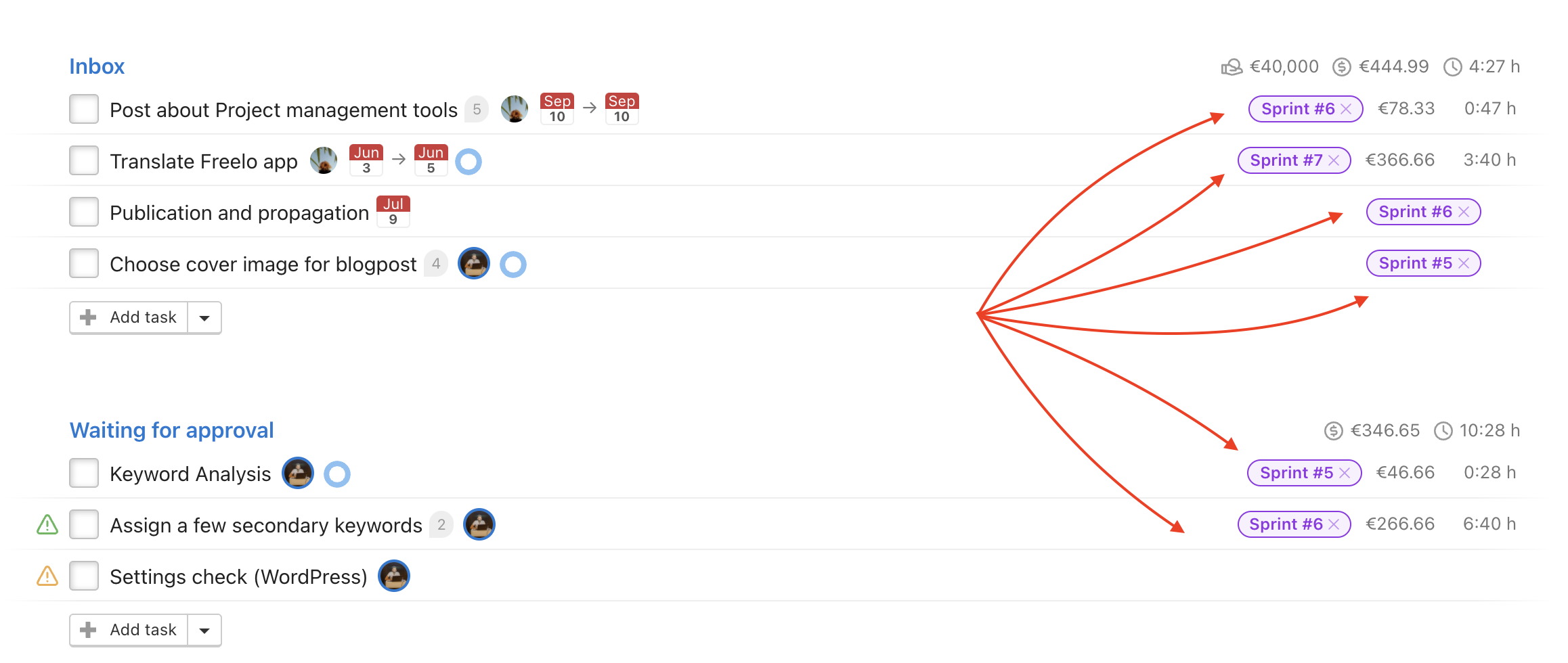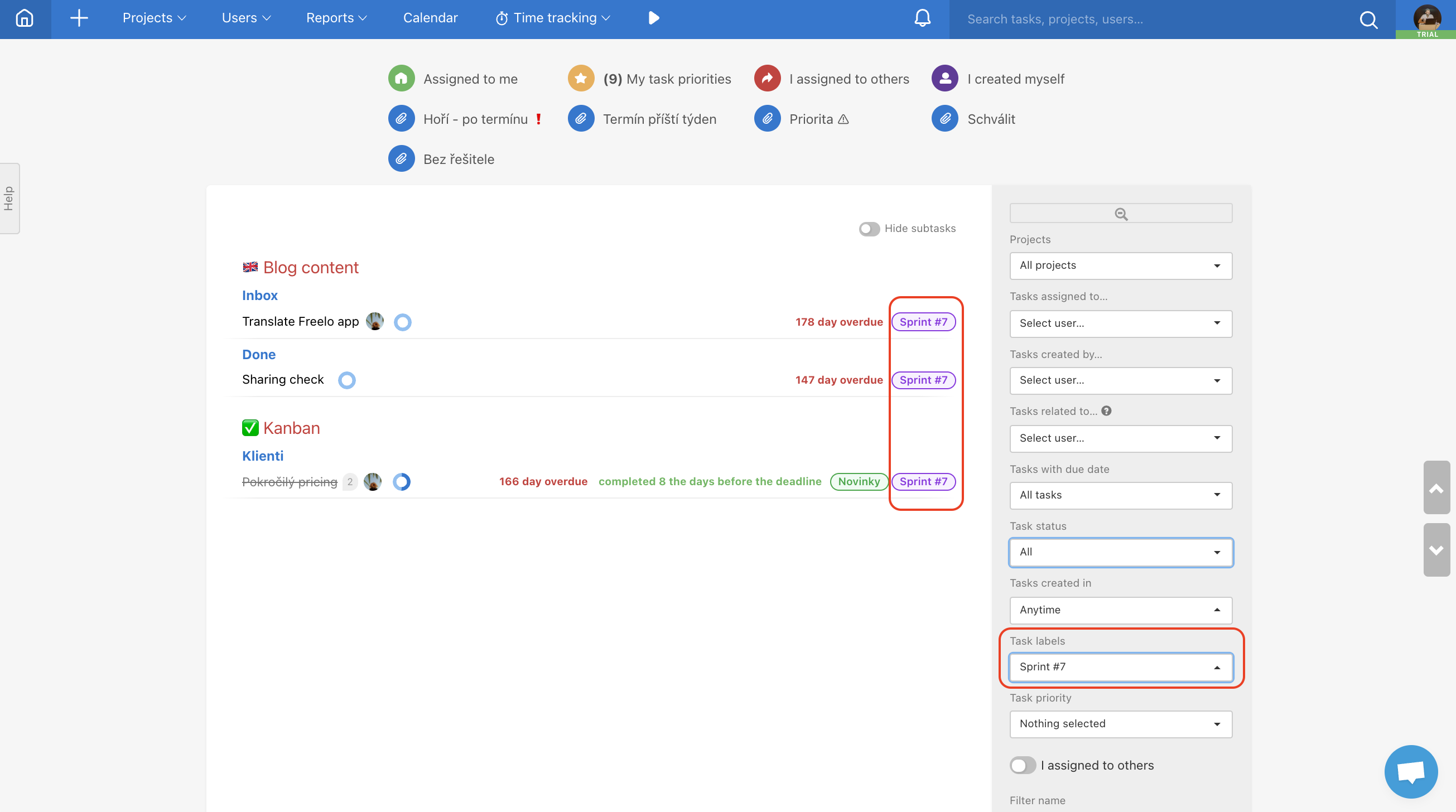 Label as "traffic-light" system
It is a simple system known from transportation. Particular task labels means progress of the task.
Green label: In Progress
Orange label: Waiting
Red label: Postponed

Example of traffic-light labels system.
Label "Check-up"
Very often the task needs to be approved – by the boss, client or checked by more experienced colleague. In that case it is good to create label Check-up which is regularly checked by responsible person. After the control the task can be moved to next stage – even if it is completing task only.

How to work with Labels
Let's have a look how to create task labels, manage or delete them.
Label creation
Task label can be created in the project, To-Do list or task detail. Any invited user to a project can create new task label. The owner of the label is user who owns the project where is the label created.
Click the last label icon on the right from a task name.

In following window type new task label and choose a color. Click Add new label.

Add label to a task
In case you have list of labels anyone can add them to tasks. Click the label icon and select labels from a list. Just click the label name, it is immediately added and close the window via Close.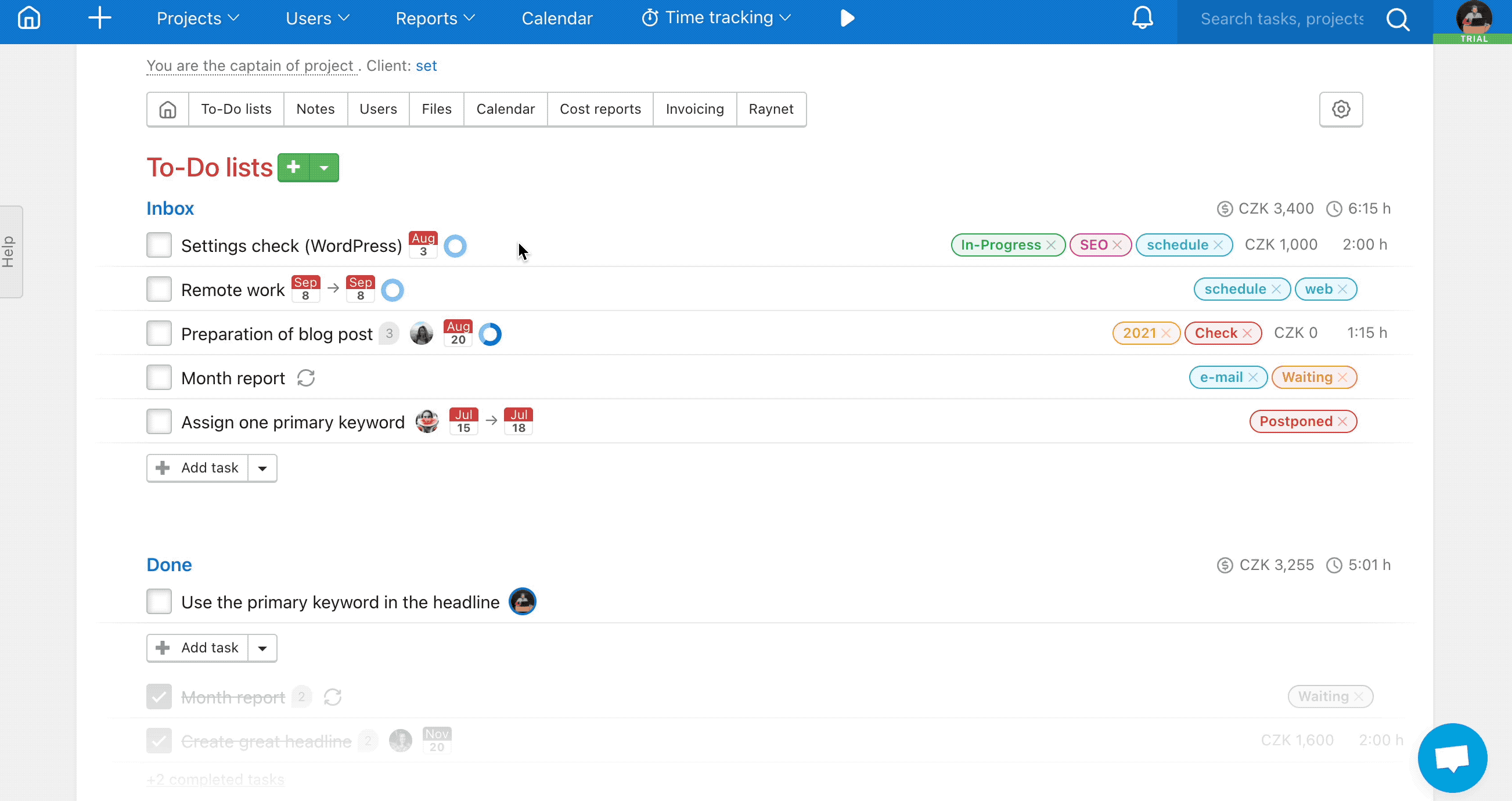 Label editing
Any user can edit a label. Editing means change the name and color. Click the label icon and pen icon on the right of the label name.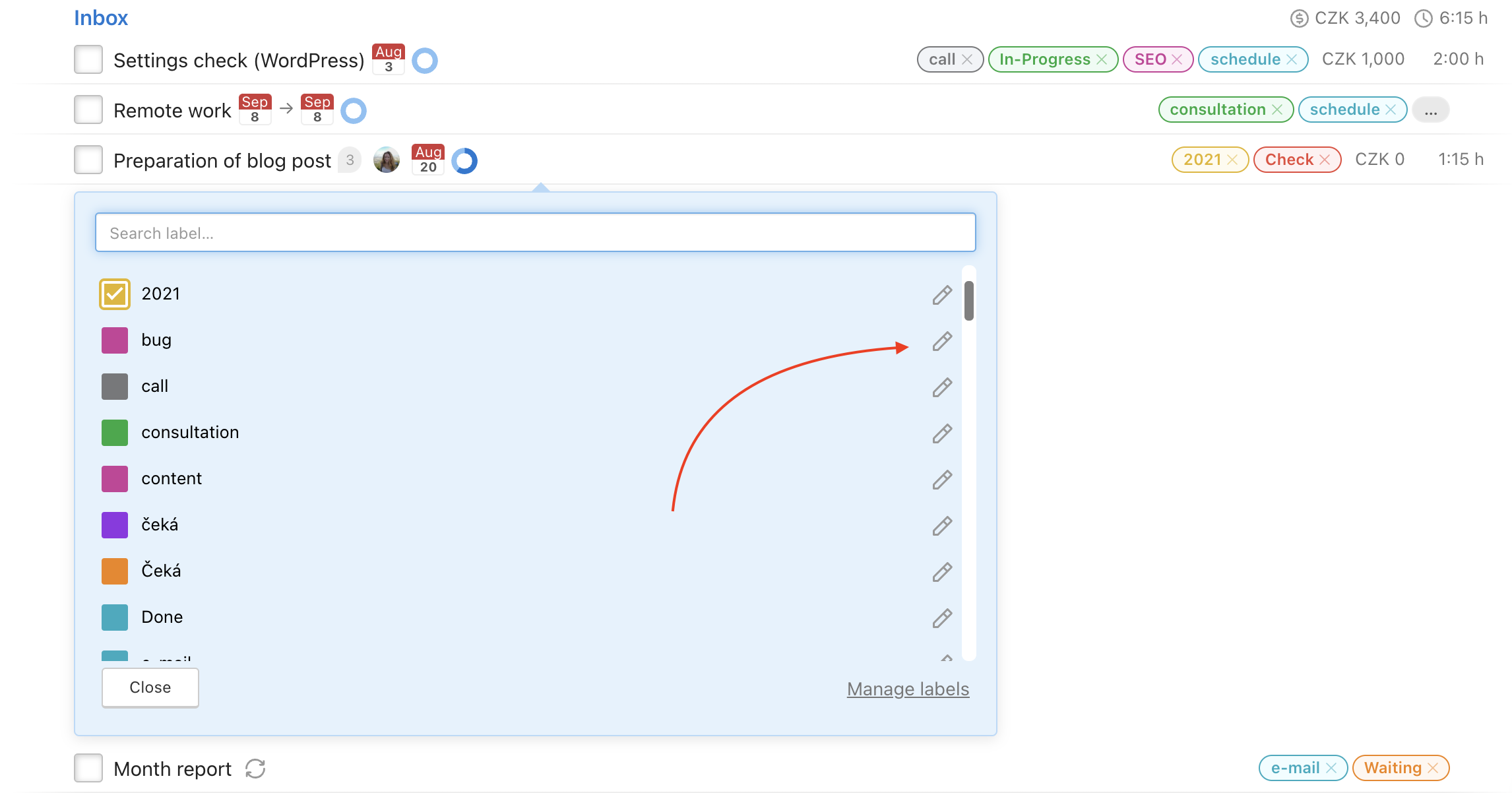 Rewrite the label name and you can also change a color. Confirm via Save.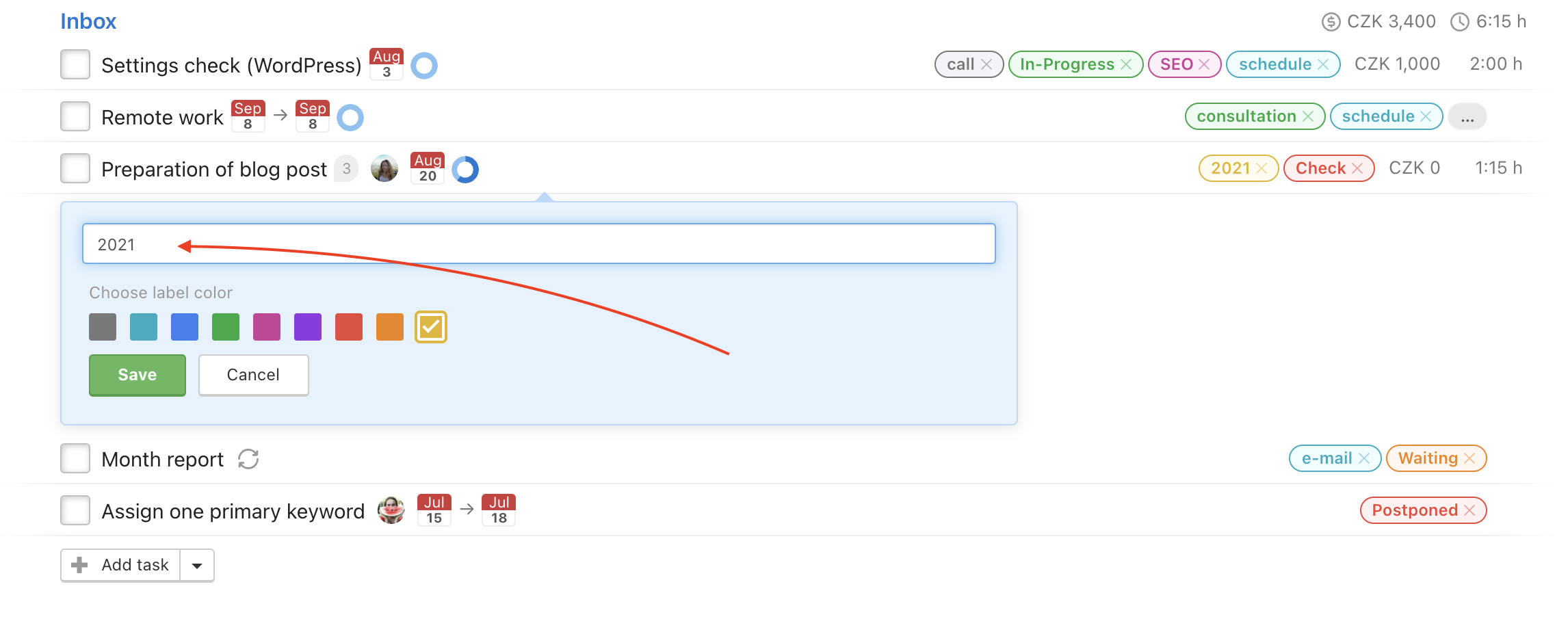 Label management
Sometimes you need to manage labels. You can Merge, Edit or Delete own labels. In Settings so-called Labels management where you can manage the labels. You can manage only your own labels or those where you are the Admin of the project.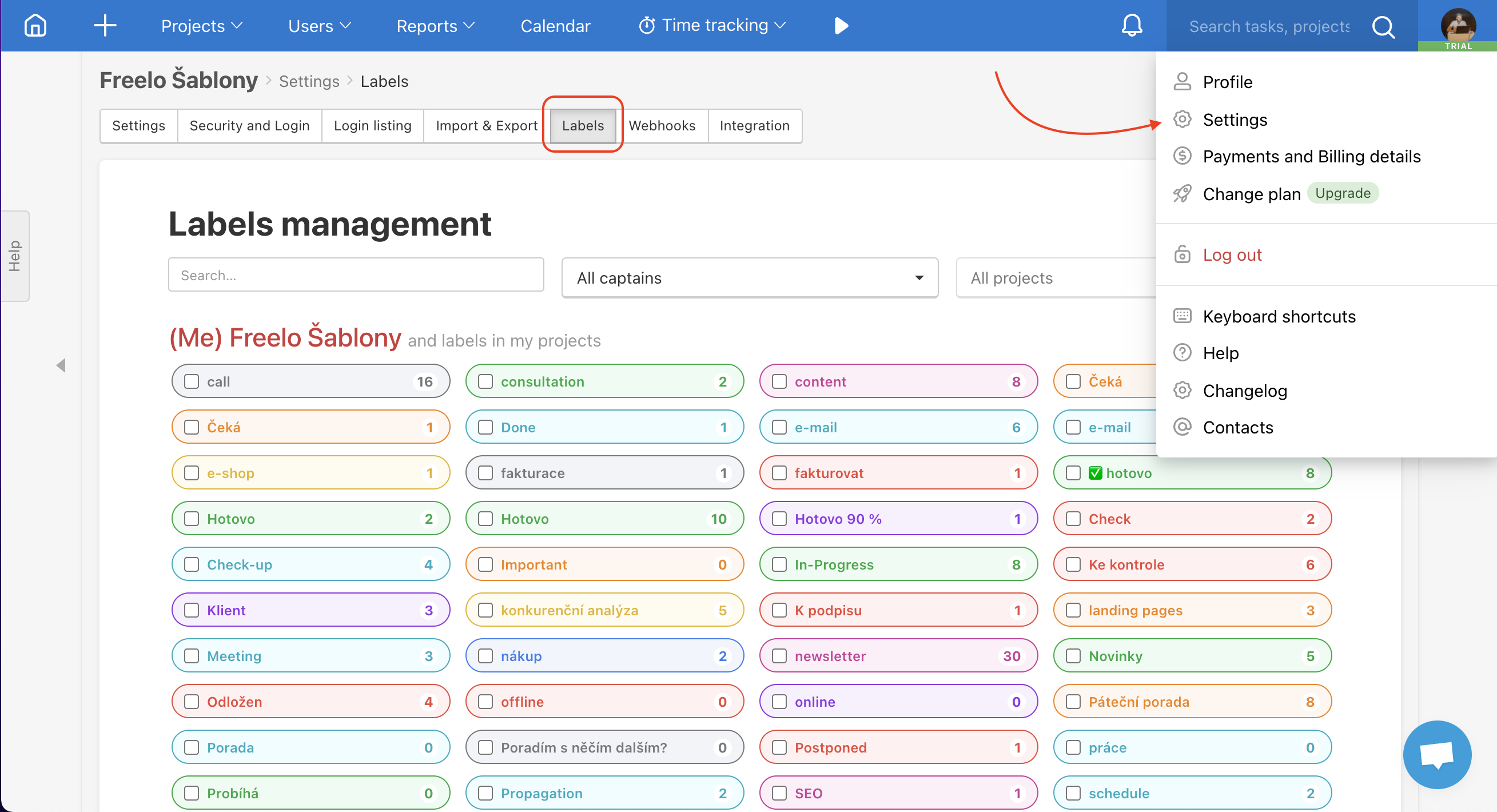 Via your avatar in top right corner go to Settings > Labels.
Merge the labels – It is good when the meaning of the labels is similar and you need to merge them in one. Labels are replaced in tasks where are used already.
Check two labels and click the icon to merge them. You can add new name and color for both of them. Once you click on "Merge labels", a new window will open for you to select the label into which you want to transfer the previously selected labels. Or you also have here the option to create a new label.

Example how to merge labels.

Once you click on "Merge labels", a new window will open in order for you to select the label into which you want to transfer the previously selected labels. Or you also have the option here to create a new label.

Edit the label – Change the name or color via pen icon.

Example how to edit a label.

Remove the label – Delete the label for good. It removes the label from all tasks. Click bin icon to remove it.

How to remove a label.
Who can edit, create and manage Labels?
Labels can create and edit any user invited to the project. But not delete them.
Manage labels (edit, merge, delete) can only the project owner or Admin.
Filter Labels
Thank to Dashboard or project detail you can filter tasks regarding the label.
The fastest way to filter particular label is when clicking on any label in Freelo. You are immediately moved to Dashboard where are all the tasks across all project with the one label.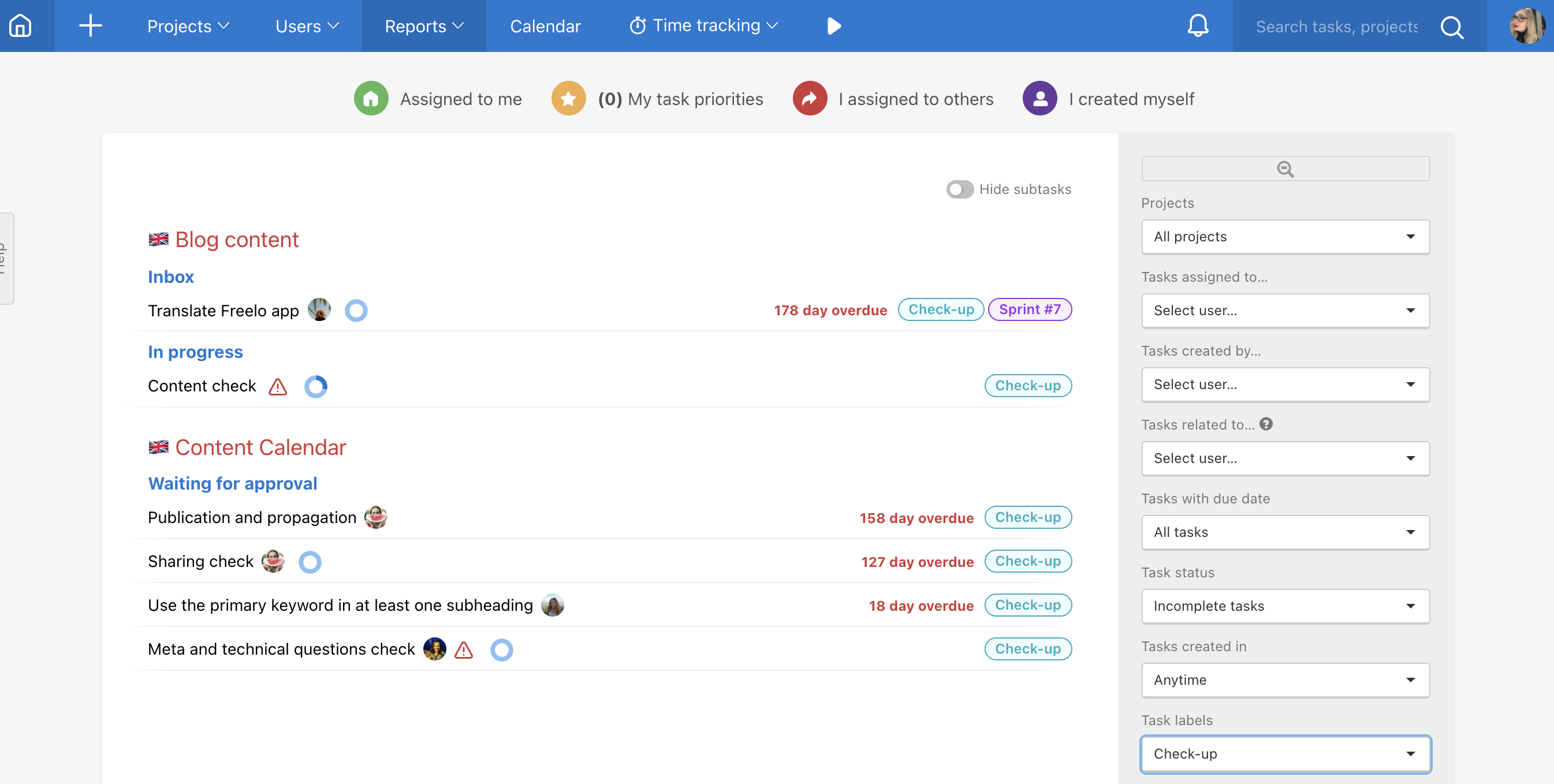 We do recommend creating custom views and filters which can be check in time on Dashboard.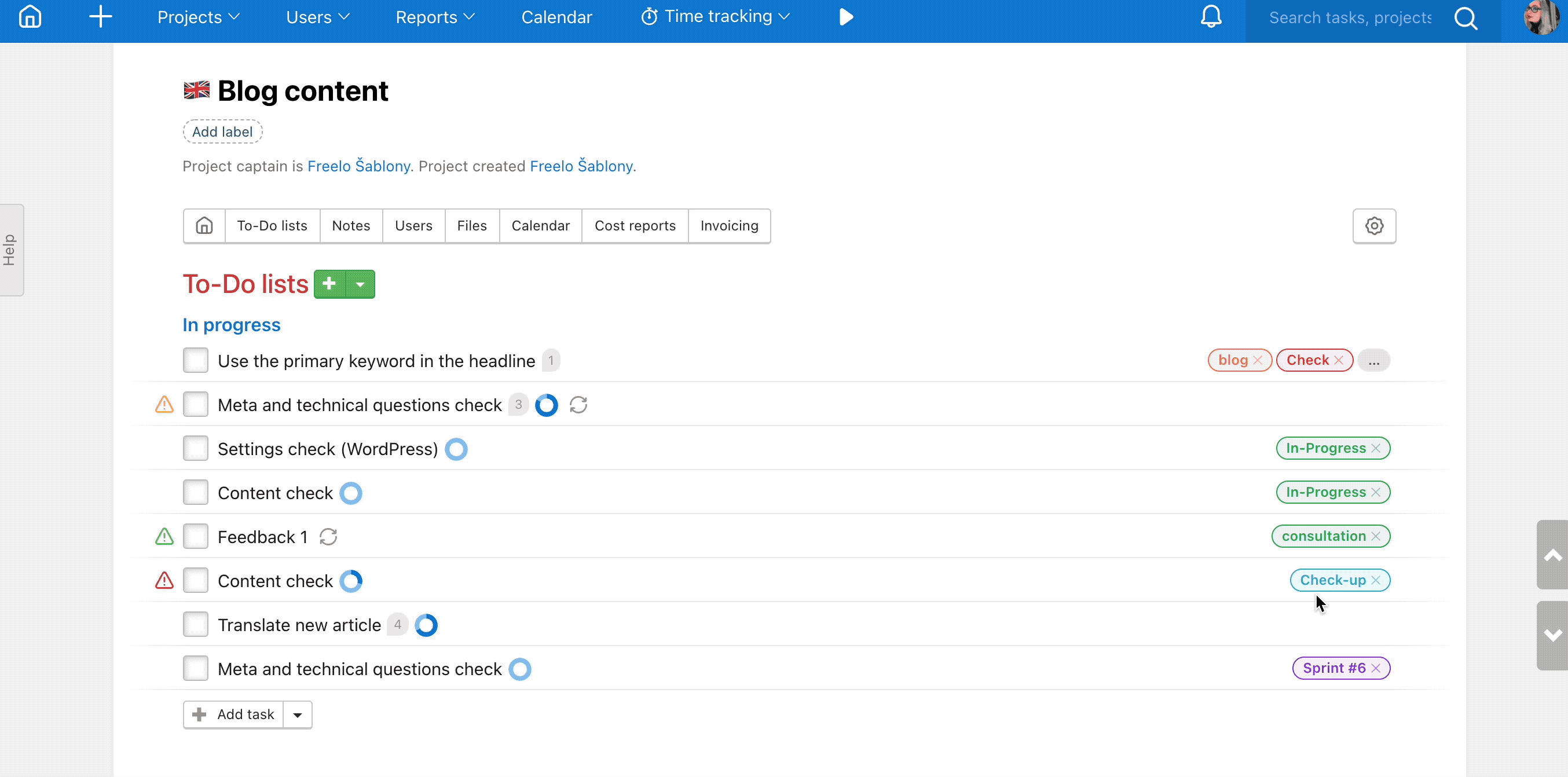 How to search the task with the same label via clicking on the label icon is below.
More inspiration
Another ideas for labels:
Opened – We are working on it.
Competed – In case you do not want to close the task – for example so it does not disappear from the calendar.
Awaiting Feedback – In case you need more information to finish the task. It would be good to have a responsible team member who checks this kind of labels.
Will not do – In case you decide not to work on the tasks.
Name of the campaign add – Have a better task overview through all the projects and department (Development, Marketing, Design, Logistics).
Name of the client – When you want to filter the tasks connected to particular client.
Name of the event – When you organize more events at once.